Wallet Codes and FIGHT Return as Partners at Level Up KL 2020
Posted by
October 22, 2020 in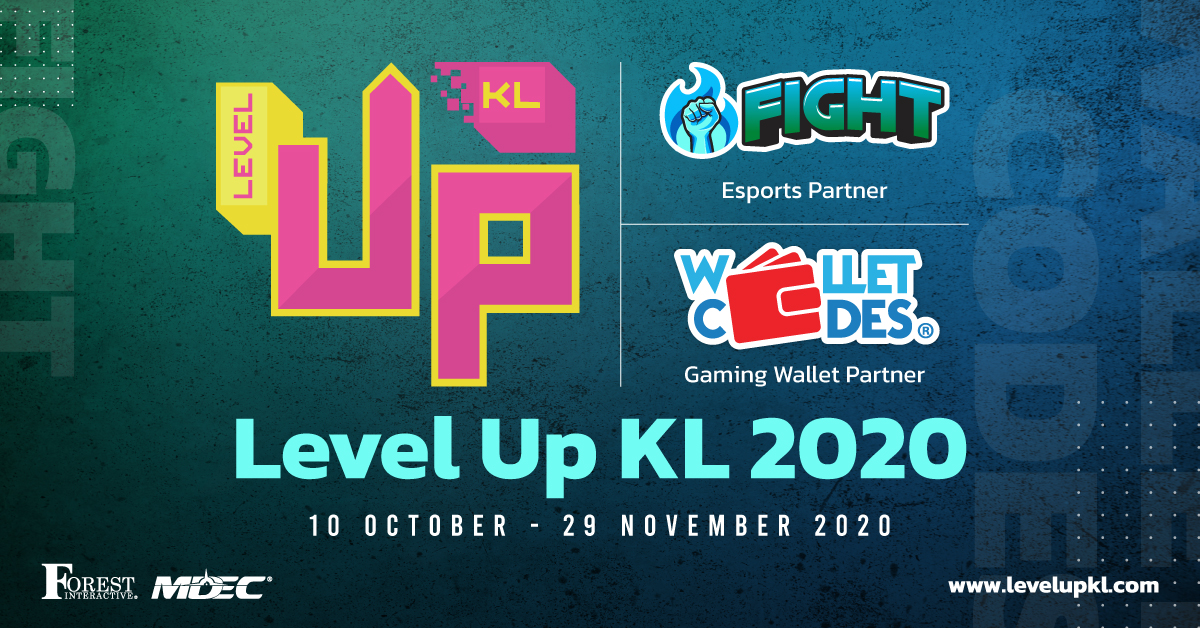 KUALA LUMPUR – Forest Interactive's gaming wallet platform, Wallet Codes, and its esports arm, Forest Interactive Gaming Habitat Team (FIGHT), are pleased to announce their return as the official gaming wallet and one of the esports partners respectively at Level Up KL 2020.
With an aligned mission to drive the digital economy in Malaysia, Forest Interactive is pleased to continue its longstanding partnership with Malaysia Digital Economy Corporation (MDEC) at the most anticipated online game festival in Southeast Asia.
Adi Azfar, Product Operation Manager at Forest Interactive, expressed his excitement to be part of the event. "Level Up KL this year is expected to record more visitors than that of previous years, now that the event is going virtual. As the official gaming wallet partner, Wallet Codes will offer free digital codes for all participants of Level UP KL to introduce them to the world of esports via our portal. These codes will enable new players to try any esports games they are interested in for free before they commit financially to these games."
"We hope to educate and create awareness, as well as open up more opportunities for the people in the region to explore what the esports industry has to offer," he added. "Having more players take part in the industry would help to shape and move the industry forward, especially in Southeast Asia."
Meanwhile, Chantal-Denise Ortega, Project Manager at FIGHT, said Level Up KL 2020 is a great platform for exposure and growth of the esports community in Southeast Asia. "The global gaming industry is projected to be worth over $100 billion in revenue this year and Asia Pacific is forecasted to be the biggest market. At FIGHT, our goal is to build and grow the esports community in Southeast Asia by providing gamers with the right platform. Through FIGHT, budding gamers and seasoned professionals, regardless of age and demographic, can put their skills to the test and gain experience through esports tournaments."
"On top of that, we've also been working closely with the game publishers to promote their games to our growing FIGHT gaming community in the region. Our collaborative efforts with MDEC for Level Up KL this year is to further support the development of the esports industry in the region and help position Malaysia as a regional powerhouse for the gaming industry," concluded Chantal, in anticipation of the event.
The region's premier digital games festival kicked off its first-ever virtualized event with the Southeast Asia (SEA) Game Jam Online, a 36-hour hackathon. A first for this platform, it features 100 game developers from across the Southeast Asia region. Similar to previous years, this year's Level Up KL is divided into two main highlights; Biz Day, which runs from October 10 to 31, and Play Day, which is scheduled from October 18 to November 29.
The event is expecting more than 50,000 gamers, developers, distributors, and visitors from across 30 countries.
To find out more about Wallet Codes and FIGHT, visit wallet-codes.com/my and fightesports.com.
###
About Forest Interactive (as of October 2020)
Forest Interactive develops scalable mobile platforms that enable mobile operators and content providers to build enriched customer experiences with highly-customizable and easy-to-use platforms. With over a decade of industry experience, Forest Interactive has expanded to include a workforce of 27 nationalities in 17 regional offices and 39 operating countries, providing innovative and comprehensive solutions to over 90 mobile operators and 120 content partners with the capacity to reach 1.3 billion subscribers worldwide.
For more information, please visit forest-interactive.com and follow Forest Interactive on LinkedIn, Instagram, Facebook and YouTube.
Media Contacts:
Forest Interactive Press Bureau
C-7-2, Megan Avenue 2, No. 12 Jalan Yap Kwan Seng, Kuala Lumpur, 50450, Malaysia.
+603 2162 2728
[email protected]