TONNAM Conquers FIGHT Esports Apex Legends Tournament in Thailand
Posted by
June 25, 2021 in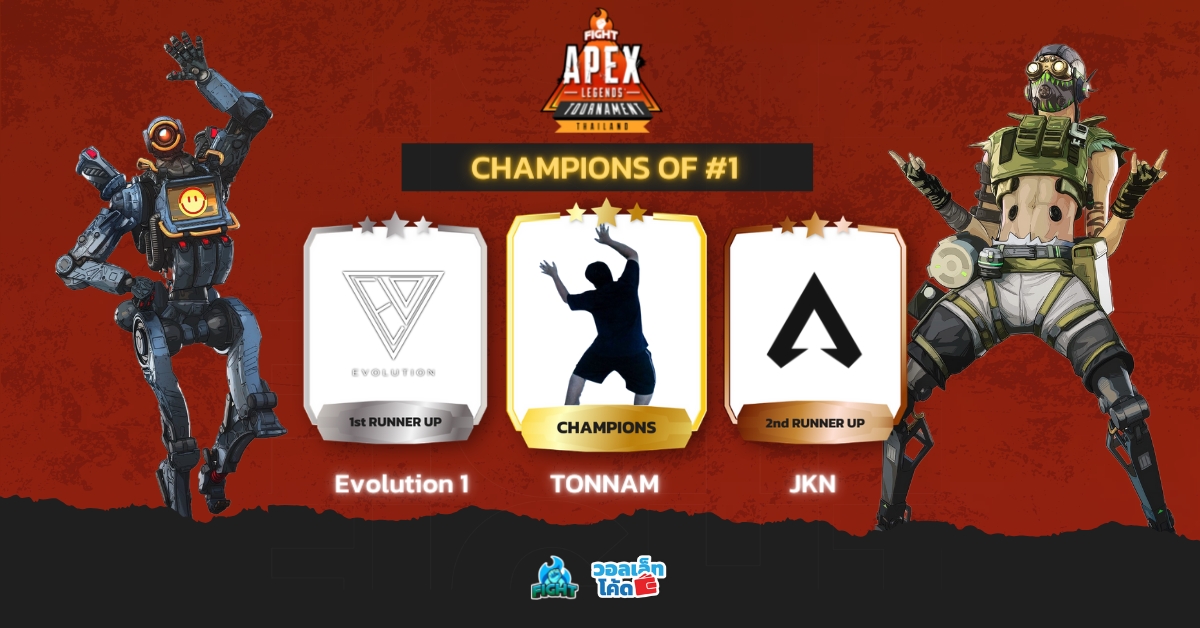 BANGKOK – FIGHT Esports Thailand concludes its Apex Legends tournament, after four grueling days of competition, and the total purse for the tourney was a THB12,000 prize pool.
Team Tonnam took home THB6,000 as they made first place with 81 points, top-scoring the other 39 teams. Evolution 1 secured second place with 75 points and pocketed THB2,500 while JKN finished third with 70 points. The tournament was livestreamed on YouTube, amassing a total of 15,700 views.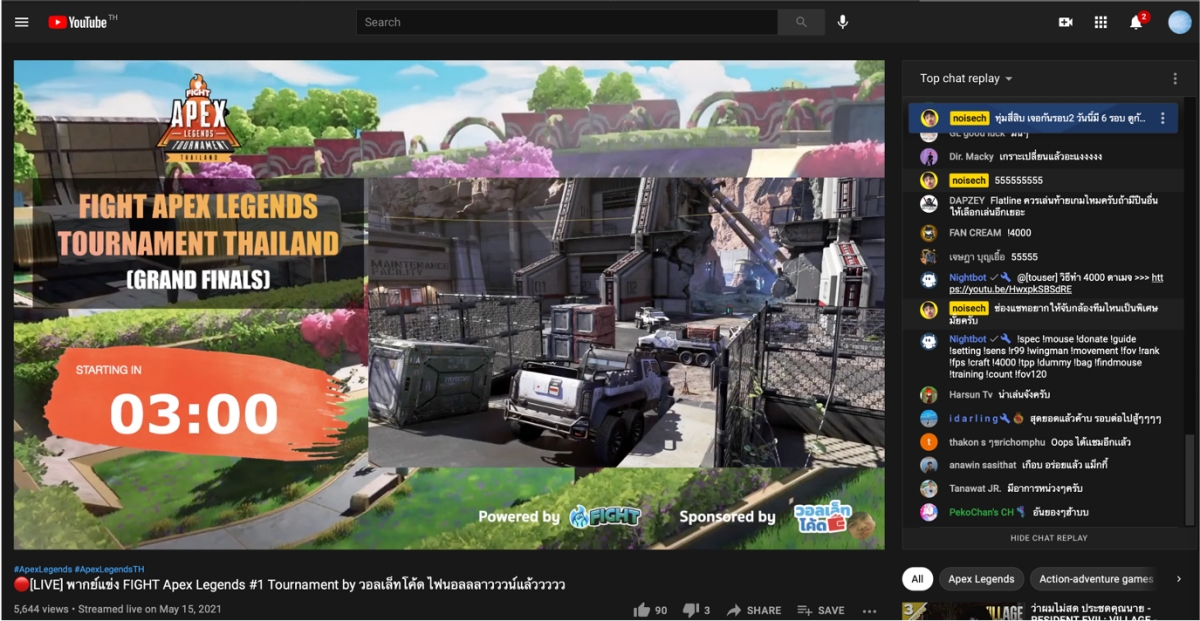 FIGHT Esports' Apex Legends tournament in Thailand was livestreamed on YouTube,
amassing a total of 15,700 views.
"We are truly delighted to extend FIGHT Esports' presence here in Thailand and to be able to take esports to the next level, unlocking boundless possibilities for our gaming community in Thailand," said Atiwath Pisithphan, Marketing & Business Development Manager at Forest Interactive Thailand, who also oversees FIGHT Esports' operations in the country. "The Apex Legends tournament is a great opportunity for amateur players to showcase their spectacular skills and, at the same time, sharpen their "kills".
Esports is growing tremendously in Southeast Asia. According to Newzoo, Southeast Asia is the fastest-growing region globally. FIGHT Esports, a global esports entertainment platform, is committed to boosting the esports ecosystem and developing the community by bringing exhilarating experiences to gamers and fans in the region.
In April, FIGHT Esports launched its inaugural regional campus tournament, FIGHT Campus League. The ongoing PUBG tournament kicked off in Malaysia, followed by tournaments by FIGHT Campus League Philippines for Call of Duty: Mobile tournament and FIGHT Campus Legend Indonesia for Mobile Legends: Bang Bang.
To participate in upcoming tournaments, or to get more details on future events, visit fightesports.com/#events.
###
About FIGHT Esports
The Forest Interactive Gaming Habitat (FIGHT) is a global esports entertainment platform that helps build an ecosystem for the gaming community and supports the development of the industry through tournaments and gaming content. Established in 2019, FIGHT has organized over 80 tournaments in 7 countries including Malaysia, Indonesia, Philippines, Myanmar, Thailand, Cambodia, and Taiwan. Visit fightesports.com.
About Forest Interactive 
Forest Interactive develops scalable mobile platforms that enable mobile operators and content providers to build enriched customer experiences with highly customizable and easy-to-use platforms. With over a decade of industry experience, Forest Interactive has expanded to include a workforce of 28 nationalities in 17 regional offices and 35 operating countries, providing innovative and comprehensive solutions to 90+ mobile operators and over 100+ content partners with the capacity to reach 1.4 billion subscribers worldwide.
For more information, please visit forest-interactive.com.  
Follow Forest Interactive on LinkedIn, Instagram, Facebook, and YouTube.