TikTok Teams Up with FIGHT Esports Once Again for #TikTokGGPH Creator Cup 4
Posted by
November 26, 2021 in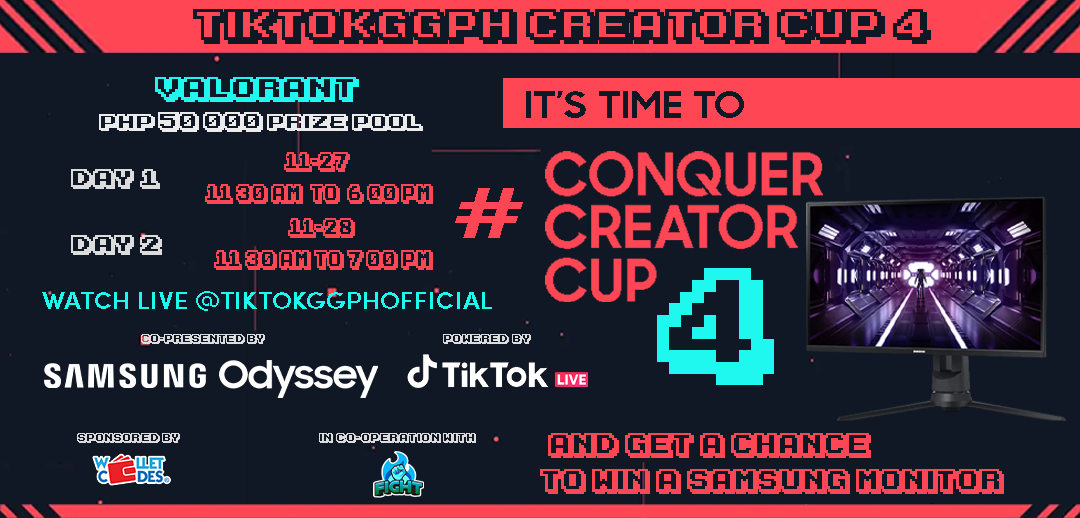 The fourth instalment of the Creator Cup, sponsored by Wallet Codes, will be set within Valorant, offering a prize pool of PHP50,000 and a Samsung Odyssey monitor.
MANILA: TikTok continues its initiative to build and support gaming creators in the Philippines, joining forces once again with FIGHT Esports and Wallet Codes for the #TikTokGGPH Creator Cup 4.
The popular short-form mobile videos platform is bringing back Valorant, Riot Games' first-person shooter, for its fourth instalment of the series. A total of eight teams of 40 creators will compete head-to-head in their pursuit of a PHP50,000 prize pool and a Samsung Odyssey monitor. The crowned champion team will walk away with PHP30,000 while the first runner-up and second runner-up will bring home PHP15,000 and PHP5,000 respectively.
The tournament will be held for two days; November 27 and 28, from 11:30 a.m. (GMT+08) onwards. Fans are able to cheer for their favorite creator teams by tuning in live via TikTok Gaming Ground PH's TikTok @tiktokggphofficial, and stand a chance to win Wallet Codes vouchers giveaways worth PHP10,000.
"It's always a fun time holding another Creator Cup tournament as it gives us plenty of opportunities to interact and discover a wide variety of content creators that are highly motivated to step up and show up. Being able to provide a competitive platform within the TikTok Gaming community is a nice change of pace towards their development as content creators, and we're ecstatic to do that with partners like FIGHT Esports," said John Castro, TikTok's Gaming Operations Manager for the Philippines.
Earlier this year in February, FIGHT Esports commenced its year-long partnership with TikTok in Southeast Asia with the first #TikTokGGPH Creator Cup, in collaboration with TikTok Philippines.
Matthew Ho, Head of FIGHT Esports, said: "We are thrilled to join forces with TikTok to activate yet another #TikTokGGPH Creator Cup. Our participation in the fourth instalment of the series further reinforces FIGHT Esports' commitment to shine a light on more talents within the gaming community, and together, create a space where creators not only can hone their competitive skills, but also connect with their fans. We look forward to seeing more epic battle moments from the participating teams."
Additionally, the Creator Cup will also see some returning creators competing for the fourth round of the series. Commenting on their return, Denver Permites, ChugJuggers team leader, the champion team for the #TikTokGGPH Creator Cup 2, said: "TikTok Gaming Ground PH provides gamers like us a platform to compete and upskill ourselves. We have grown stronger since our last run and, by joining this Creator Cup again, we will have another chance to give our best and show our supporters what we are capable of."
Meanwhile, Gaebriel Jakob Bautista, who was awarded Most Valuable Player (MVP) for #TikTokGGPH Creator Cup 2, noted that the tournament has helped him create a chemistry within the team. "The last Creator Cup tournament helped us understand the playstyle of each other. My team and I were not well-known within the community when we joined the last Creator Cup but we had some fun showing our gaming skills to our supporters. We would love to do that again."
The #TikTokGGPH Creator Cup series was set in motion in conjunction with the launch of TikTok Gaming Ground PH in an effort to help make online gaming more socially accessible than ever. Through TikTok Gaming Ground PH, Filipino gamers can join the thriving gaming community on a platform where culture starts, flex their creativity in a uniquely TikTok way, and share their gaming moments with other like-minded gamers.
Powered by TikTok Live, the #TikTok Creator Cup 4 is also co-presented by Samsung Odyssey and sponsored by Wallet Codes.
-ENDS-
About FIGHT Esports
The Forest Interactive Gaming Habitat (FIGHT) is a global esports entertainment platform that helps build an ecosystem for the gaming community and supports the development of the industry through tournaments and gaming content. Established in 2019, FIGHT has organized over 80 tournaments in 7 countries including Malaysia, Indonesia, Philippines, Myanmar, Thailand, Cambodia, and Taiwan. Visit fightesports.com.
About TikTok
TikTok is the leading destination for short-form mobile video. Our mission is to inspire creativity and bring joy. TikTok has global offices including Los Angeles, Mountain View, New York, London, Paris, Berlin, Dubai, Mumbai, Singapore, Jakarta, Seoul, and Tokyo. www.tiktok.com.
About Wallet Codes
Wallet Codes is a one-stop portal for gamers to purchase affordable in-game currencies and digital gift cards from the world's popular online entertainment and stores such as Mobile Legends Diamonds, PUBG Mobile UCs, Garena Shells, iTunes, Netflix, Nintendo, and more. With more than 50 game titles and gift cards to choose from, Wallet Codes enables users a hassle-free purchase experience through multiple modes of payment available for faster and safer transactions.
Wallet Codes also features a loyalty point, P Points, where users will receive points for every successful transaction. The accumulated points can be redeemed to purchase any vouchers and gift cards on the platform.
Wallet Codes is available in nine countries worldwide including Cambodia, Indonesia, Malaysia, Myanmar, Peru, Philippines, Taiwan, Thailand, and USA. Visit wallet-codes.com for more info.