TikTok Joins Forces with FIGHT Esports to Activate TikTok Gaming Carnival 2021
Posted by
July 13, 2021 in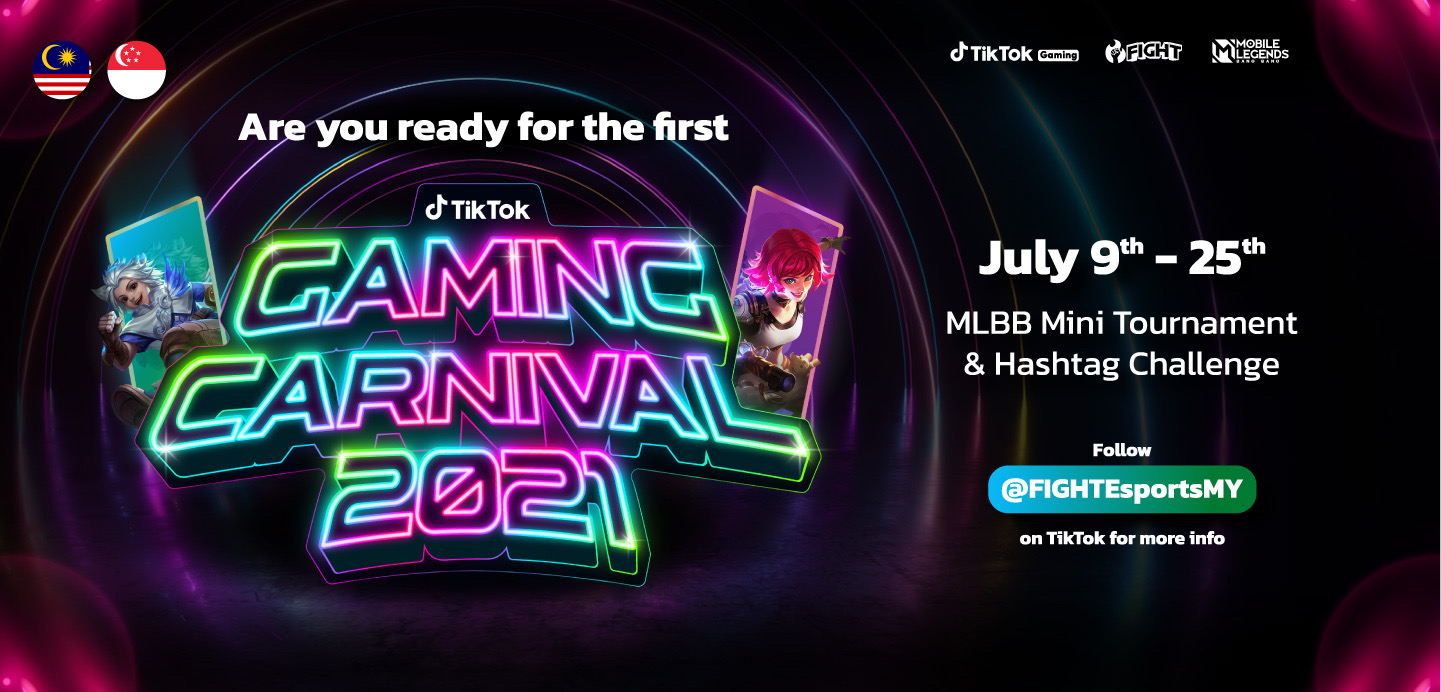 The TikTok Gaming Carnival 2021 will be hosted in Malaysia and Singapore, featuring a #GCMLBB hashtag challenge and a Mobile Legends: Bang Bang Invitational Content Creator Showmatch.
KUALA LUMPUR: TikTok, the leading destination for short-form mobile videos, joins forces with FIGHT Esports, a global esports entertainment platform, to activate the TikTok Gaming Carnival 2021 in Malaysia and Singapore.
The event will kick-start from July 9 to 23 with a #GCMLBB hashtag challenge, where Mobile Legends fans in Malaysia and Singapore will stand a chance to win a total of 80 skin series by uploading MLBB content on the popular social-sharing platform like gameplay highlights, skins showcase, or tips and tricks on how to play the game.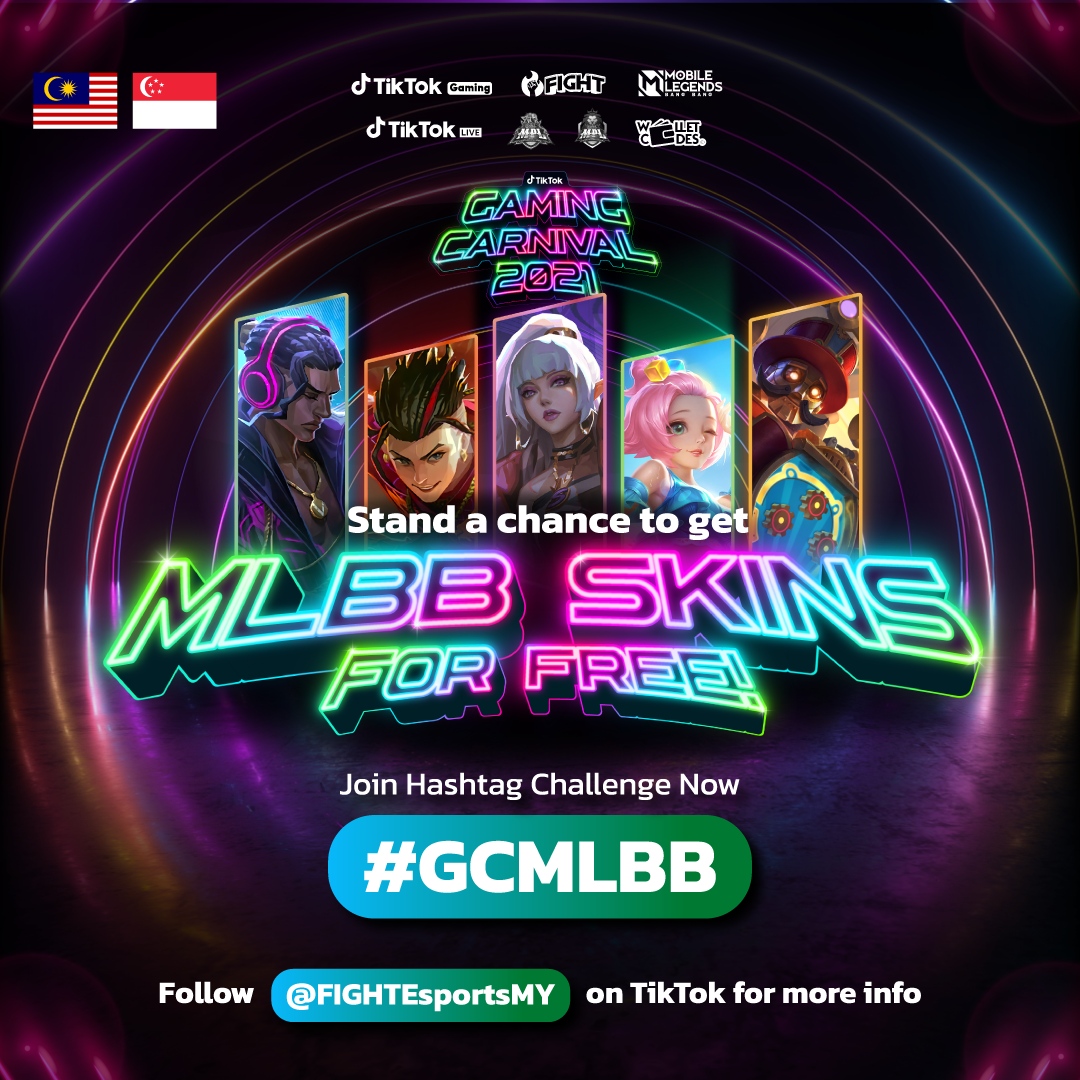 50 skins will be allocated for Malaysian fans and another 30 skins for Singaporeans. Top prize skins will be the 515 series, while the others will be at random. Winners will be announced on July 30.
TikTok will also feature eight (8) content creators; six (6) Malaysian teams and two (2) Singaporean teams are invited to participate in an exclusive MLBB Invitational Content Creator Showmatch on July 25. Fans may tune in on the FIGHT Esports' TikTok account via @fightesports from 2 p.m. (GMT+8) onwards to watch their favorite creators battling for the prize pool of USD300.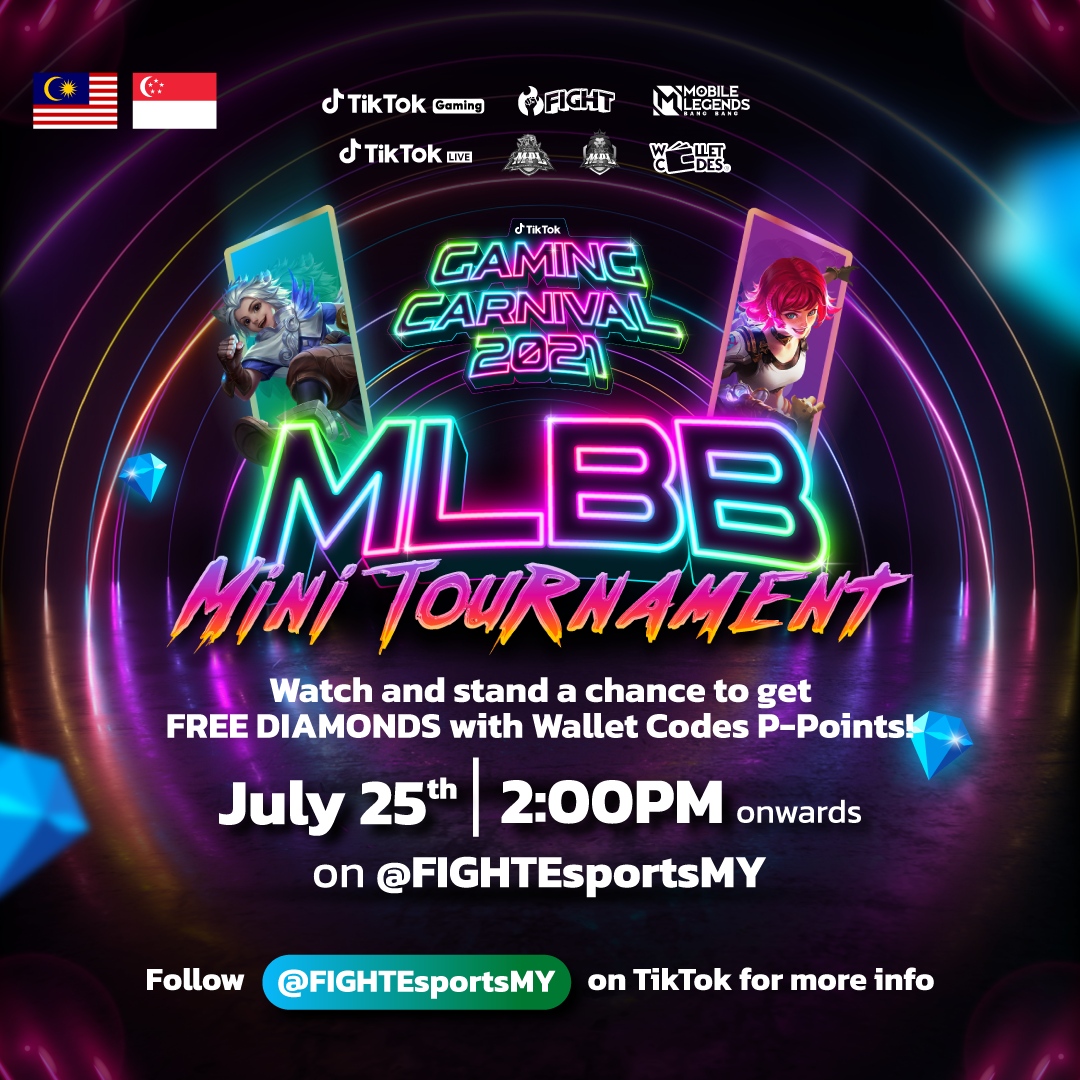 Matthew Ho, Head of FIGHT Esports, said: "We are thrilled to be able to get in on the action of further empowering the local gaming community through events and tournaments such as the TikTok Gaming Carnival 2021. At FIGHT Esports, we are committed to bring gamers in the TikTok community together by delivering immersive and engaging gaming experiences, as well as paving ways for them to flex their gaming skills and share them with other passionate gamers."

"TikTok is the new home for gamers online and activities such as the Gaming Carnival helps grow and solidify the community. The addition of rich and relevant gaming content adds diversity to the platform, enabling people to be part of online communities they wish to belong to, across varying interests, including gaming. Through this, the platform is able to continue bringing joy and inspiring creativity among all of its users," said Darren Quek, Strategy Operations Manager at TikTok.
FIGHT Esports entered a year-long partnership with TikTok in Southeast Asia in February this year, marking its first foray into connecting with the gaming community on the platform with the Philippines' #TikTokGGPH Creator Cup Tournament, in collaboration with TikTok Philippines.
The partnership then moved forward with the launch of the ongoing FIGHT Esports' inaugural regional varsity tournament, FIGHT Campus League. Designed specifically to showcase a pro-level playing field for university students, FCL's multi-title tournaments are hosted in Malaysia, Indonesia, and the Philippines with their own unique mechanics.
"The long-lasting partnership with TikTok in Southeast Asia has been a highly collaborative partnership and rewarding learning experience for FIGHT Esports," noted Ho. "As we continue to focus on interest development within the gaming community, we'll not only expand our reach on TikTok but also across different relevant platforms."
"After launching and organizing our first few series of tournaments on TikTok, FIGHT Esports continues to work closely with TikTok to determine the best way to bring gamers of all ages closer together and deliver more personalized experiences to them, no matter where they are," Ho concluded.
-ENDS-
About FIGHT Esports
The Forest Interactive Gaming Habitat (FIGHT) is a global esports entertainment platform that helps build an ecosystem for the gaming community and supports the development of the industry through tournaments and gaming content. Established in 2019, FIGHT has organized over 80 tournaments in 7 countries including Malaysia, Indonesia, Philippines, Myanmar, Thailand, Cambodia, and Taiwan. Visit fightesports.com.
About TikTok 
TikTok is the leading destination for short-form mobile video. Our mission is to inspire creativity and bring joy. TikTok has global offices including Los Angeles, Mountain View, New York, London, Paris, Berlin, Dubai, Mumbai, Singapore, Jakarta, Seoul, and Tokyo. www.tiktok.com.