PUBG MOBILE Onboards FIGHT Esports for PR and Events Management in the Philippines
Posted by
December 1, 2022 in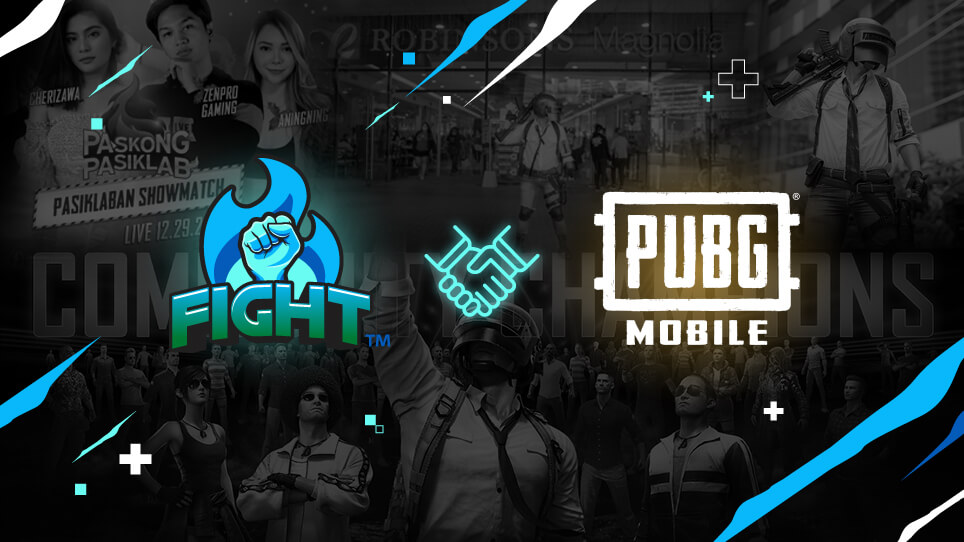 MANILA: PUBG MOBILE Philippines has tapped global esports organizer FIGHT Esports as one of its agencies for a nine-month stint on public relations, KOL, and events management for PUBG MOBILE in the Philippines.
Since the partnership in November 2021, FIGHT Esports has overseen notable activations such as life-sized PUBG MOBILE 4th Anniversary airdrops installations at select Robinsons Malls and its related entity Robinsons Movieworld in Manila.
Other campaigns done in the nine-month engagement include Paskong Pasiklab, a Christmas fundraising event in the form of a charity showmatch, featuring Pinoy PUBG MOBILE influencers with cash prizes donated to six non-profits; the screening of Spider-Man: No Way Home movie after the in-game release of the Spider-Man tracksuit set and parachute skin; publicity outreach for two anime collaborations Jujutsu Kaisen & Evangelion; and most recently, the Phoenix Adarna campaign in June.
PUBG MOBILE Philippines also awarded two empowering campaigns to FIGHT for its player community: the Community Champions league and Ladies Tournament in celebration of International Women's Month in March.
Don Vicente, Country Manager for FIGHT Philippines, said that the esports industry in the country is seeing growth, with interest in the target demographic hastened with the wins of SIBOL Philippines' teams in the SEA Games.
"We are looking forward to the prospect of becoming a pillar of this budding industry which, in the future, will provide lucrative jobs to the next generation of employees. It is interesting to note that due to technology, the job landscape is evolving, creating new roles that were not there years before."
Patricia Ysabelle Griño, Marketing Manager, PUBG MOBILE Philippines, said the brand is starting to pick up momentum in the country and anticipates more creative executions that will aid them to expand its player base.
"PUBG MOBILE is among the first battle royale games out there, and we continue to be relevant by listening and adapting to the demands of our community. Through FIGHT, we are always one step towards our goal here in the Philippines."
Since its establishment in 2019, FIGHT Esports has grown its network of game publishers, brand partners, and mobile players. In the new normal, FIGHT Esports found success in O2O2O (Online-to-Offline-to-Online), combining offline and online tactics to engage the gaming audience of esports brands with which it partners. Today, FIGHT specializes in broadcast localization, gaming content, public relations, esports marketing, and esports tournaments for both game publishers and non-endemic brands.
About FIGHT Esports
FIGHT is a global esports entertainment platform that helps build an ecosystem for the gaming community and supports the development of the industry through tournaments and gaming content. Established in 2019, FIGHT has organized over 80 tournaments in 7 countries including Cambodia, Indonesia, Malaysia, Myanmar, Thailand, Taiwan, and the Philippines. Visit fightesports.com.