Indonesia's FIGHT Campus Legend Announced, UGM, Binus, and Gunadarma Advance to Final
Posted by
October 29, 2021 in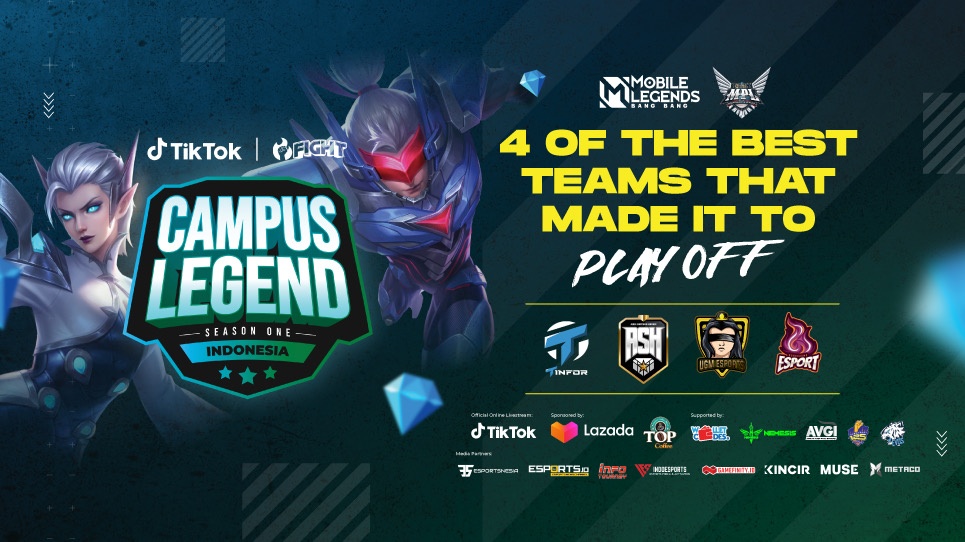 JAKARTA: After rounds of epic battles, Gadjah Mada University's Romusha, Binus University's ASH, as well as Gunadarma University's Tinfor and Flame advance to the final of FIGHT Campus Legend. The grand finale will commence virtually at the end of October.
the group stage of 'TikTok | FIGHT Campus Legend' just ended. In the previous round, 40 teams from 31 universities competed in the group stage and the league was conquered by 4 teams from 3 universities. Then, they continue to Semi-finale and straight to the grand finale.
Romusha is from Universitas Gadjah Mada. They obtain the highest point in group A, which is 45 points. From the group B match, there was ASH who managed to collect 51 points. ASH itself comes from Binus University. Then from group C, Tinfor managed to get the highest points among all groups, namely 54 points, whereas the maximum group stage points are 54 points. The Tinfor team is from Gunadarma University. Finally, there was Flame who managed to beat all of its opponents in Group D with 45 points. Flame is also a team that represents Gunadarma University.
During the group stage, each team will compete against 9 other teams. The team with the highest points will qualify and advance to the semi-finals. The highest points for the FCL group stage are Gunadarma Tinfor and Binus ASH. During the match, Binus ASH only lost 1 time. While Gunadarma Tinfor has never lost they were able to beat other teams in less than 10 minutes.
"One of the most memorable moments of the competition on the group stage was Gunadarma Tinfor's skill which made them always win no matter who the opponent was," explained Axel Arkenzo, Caster Livestream 'TikTok | FIGHT Campus Legend.'
Another interesting fact is, it turns out that Gunadarma Tinfor and Binus ASH have faced off in another league in 2020. But at that time Gunadarma Tinfor won. Who will the victory be on this time? Let's watch the 2021 FCL semi-finals and finals via TikTok.
"We are very excited to see the teams' matches in the semi-finals and finals that will take place soon. Hopefully, FCL can become a platform for new esports talents, especially those from extra-curricular or higher education SMEs in Indonesia," said Vita Paulina, Operation and Marketing Manager of Forest Interactive.
This tournament, which is organized by FIGHT Esports in partnership with TikTok, is also supported by non-endemic brands such as Axis, Top Coffee, Lazada, and Yamaha, while esports industry players like Wallet Codes Indonesia, Moonton Indonesia, NYK Nemesis, and Evos Esports also came in as partners. The tournament is streamed live exclusively on TikTok via @fightesportsid.
Esports fans and team supporters who tune in to FIGHT Campus Legend's streams also stand a chance to win a variety of prizes including millions of P Points from Wallet Codes Indonesia. These P Points can be used to redeem a multitude of Wallet Codes game vouchers via the app and an Internet subscription package from Axis.
On the other hand, the top three teams will stand a chance to bring home grand cash prizes worth IDR 38 million: IDR 15 million for the champion, IDR 12 million for the first runner-up, and IDR 10 million for the second runner-up.
The ongoing FIGHT Campus Legend is a part of the FIGHT Campus League installments, a regional, multi-title tournament for university students in Malaysia, Indonesia, and the Philippines. The league, which has run for five consecutive months since May 2021, kicked off in Malaysia with the PUBG Mobile tournament and was followed by the FIGHT Campus League Philippines' Call of Duty Mobile tournament.
For detailed information on how to stay updated with the tournament and register for future tournaments, kindly visit fightesports.com and follow us on Instagram via @fightesportsid.
-ENDS-
About FIGHT Esports
FIGHT is a global esports entertainment platform that helps build an ecosystem for the gaming community and supports the development of the industry through tournaments and gaming content. Established in 2019, FIGHT has organized over 80 tournaments in 7 countries including Cambodia, Indonesia, Malaysia, Myanmar, Thailand, Taiwan, and the Philippines. Visit fightesports.com. 
Media Contacts:
Forest Interactive Press Bureau   
+603 2781 8468  
About Forest Interactive
Founded in 2006, Forest Interactive develops scalable mobile platforms to connect mobile operators, content providers, and game publishers with their subscribers. With over 15 years of industry experience, Forest Interactive has expanded to include a diverse workforce of 20+ nationalities in 17 regional offices.
Delivering content subscription services, digital voucher and e-commerce platforms, and mobile apps for all ages, Forest Interactive operates in more than 30 countries, servicing 90+ mobile operators and 100+ content partners with the capacity to reach over one billion subscribers worldwide. To learn more, visit forest-interactive.com.