Frost & Sullivan Applauds Forest Interactive as 2021 Entrepreneurial Company of the Year in the Global Mobile Content Solutions and Services Industry
Posted by
February 23, 2022 in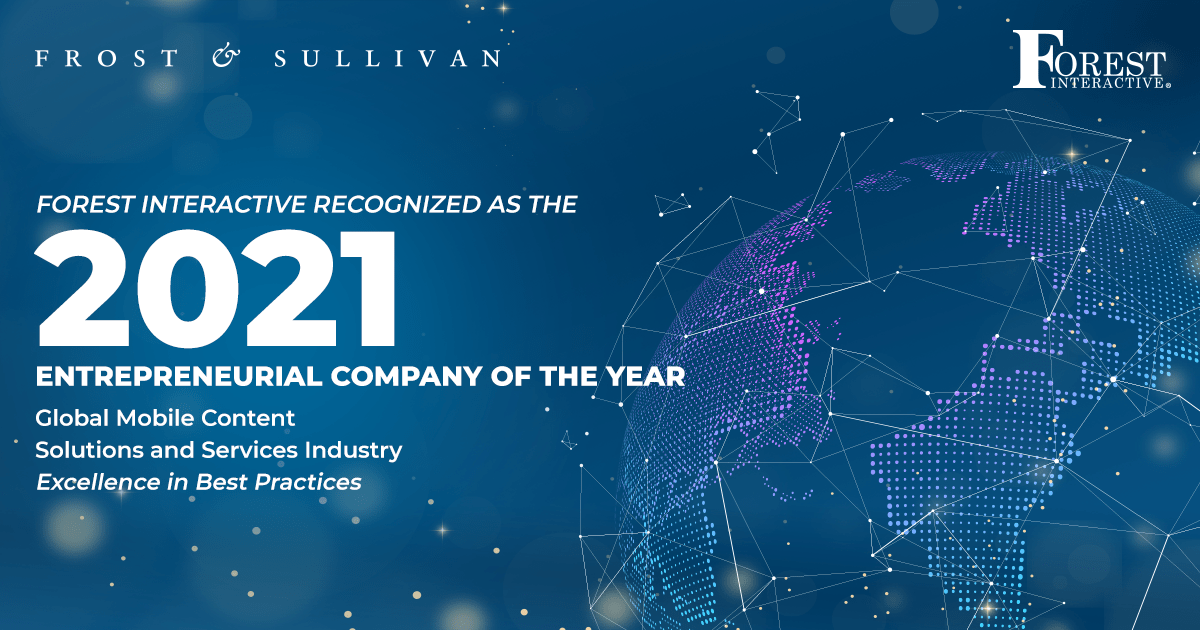 KUALA LUMPUR: Frost & Sullivan applauds Forest Interactive as 2021 Entrepreneurial Company of the Year in the Global Mobile Content Solutions and Services industry for its outstanding achievements in entrepreneurial innovation and customer impact.
Frost & Sullivan specializes in visionary innovation and transformational growth, applying a meticulous analytical process to evaluate each nominee for each award category before shortlisting the winner. Through its stringent research and evaluation process, the global research and consulting firm has recognized Forest Interactive as the best up-and-coming, potentially disruptive market participant, exceling in many of the recognition criteria indicating its excellence in the global mobile content solutions and services space.
"As a Malaysia-headquartered company with presence in more than 35 countries around the world, it is an honor to be recognized by a global firm like Frost & Sullivan for our services to help advance the mobile landscape," said Johary Mustapha, Founder and CEO of Forest Interactive. "The increasing demand for gaming-related content has also given us the opportunity to enrich the mobile experience through telco-driven solutions that help mobile operators cater to their subscribers' demands. This recognition is an affirmation that our work with the Digital Voucher Platform (DVP), FIGHT, and Wallet Codeshave the power to maximize the potential of mobile technology, to serve the needs of people today."
Frost & Sullivan recognizes Forest Interactive's efforts in bridging the gap between mobile operators, content providers, and game publishers with their subscribers by providing gaming solutions through its customizable and scalable mobile platforms that facilitate operators to increase their revenue and enhance customer experience.
"By partnering with more than 90 communication service providers, Forest Interactive aligns itself purposefully with megatrends in the industry and leverages its position in the ecosystem to drive sustainable future growth," commented Riana Barnard, Best Practices Research Analyst for Frost & Sullivan.

"Forest Interactive's various payment options (micropayments, online banking, e-wallets, convenience stores) meet the needs of all gamers. Since [Wallet Codes]'s launch in 2018, Forest Interactive's reputation has been getting more robust, and it consistently launched new products and payment channels to drive 314% growth during the past three years. Moreover, the company expects to triple the revenue created by this solution in the next financial year," opined Rutuja Patil, Research Analyst.
A total of 12 awards were presented to best-in-class companies in Asia-Pacific, segmented into global, regional, and national categories.
Frost & Sullivan Best Practices awards recognize companies in different regional and global markets for demonstrating stellar achievement and exceptional performance in areas such as leadership, technological innovation, customer service, and strategic product development. Industry analysts compare market participants and measure performance through in-depth interviews, analysis, and extensive secondary research to identify best practices in the industry.
This award provides Forest Interactive with growth opportunities, builds global presence and recognition, and consequently increases trust by potential partners. The in-depth report by Frost & Sullivan's analysts can be accessed here.
About Forest Interactive
Founded in 2006, Forest Interactive develops scalable mobile platforms to connect mobile operators, content providers, and game publishers with their subscribers. With over 15 years of industry experience, Forest Interactive has expanded to include a diverse workforce of 20+ nationalities in 16 regional offices.
Delivering content subscription services, digital voucher and e-commerce platforms, and mobile apps for all ages, Forest Interactive operates in more than 30 countries, servicing 90+ mobile operators and 100+ content partners with the capacity to reach over one billion subscribers worldwide. To learn more, visit forest-interactive.com.
About Frost & Sullivan
For over six decades, Frost & Sullivan has helped build sustainable growth strategies for Fortune 1000 companies, governments, and investors. We apply actionable insights to navigate economic changes, identify disruptive technologies, and formulate new business models to create a stream of innovative growth opportunities that drive future success. Visit http://www.frost.com.