FIGHT Win From Home Winners to Donate Winning Prizes
Posted by
April 16, 2020 in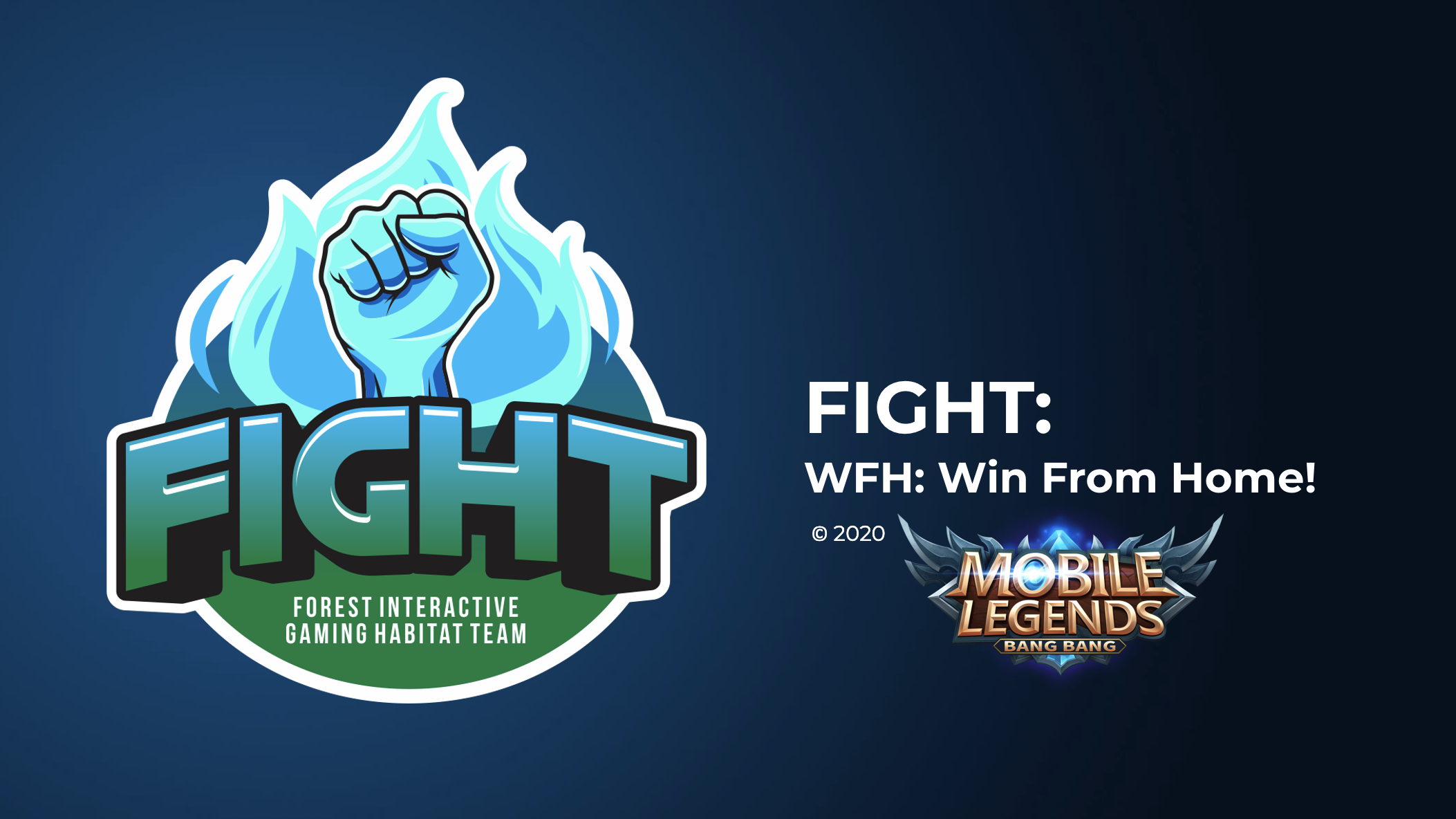 As COVID-19 continues to spread across the globe, winners of FIGHTWin From Home agrees to donate their cash prizes to help the frontliners.
Kuala Lumpur – The winners of Forest Interactive Gaming Habitat Team (FIGHT) Win From Home are doing their part by giving away their cash prizes to Malaysian frontliners who have been working around the clock to curb the spread of the coronavirus. The winning teams have made their unanimous decision on April 14, a day after the result was announced.
Videographer & Motion Graphic Designer Syahrizal Hallil, in a statement on behalf of his team members Penari Keranda, said that they joined the tournament to have fun in the first place. "That's why we put the cash prizes aside to give it out to those who have been protecting us from the virus since day 1. We hope that this donation helps our unsung heroes in any way possible."
"With the current pandemic outbreak, we are grateful that we still have a job that pays monthly when there are less fortunate people out there," added Syahrizal.
FIGHT Win From Home teams in action.
FIGHT Project Manager Chantal-Denise Ortega said that she was overwhelmed by the decisions made by the winners. "We did not expect that they will use the cash as a donation to the frontliners. Their spirits in playing the game together inspire us. To use their talents to do their part in giving back to society admires us even more."
"We are currently mobilising our community services effort through mobile esports events. Moving forward, we plan to organise an online tournament where the proceeds will be donated for charity," added Chantal.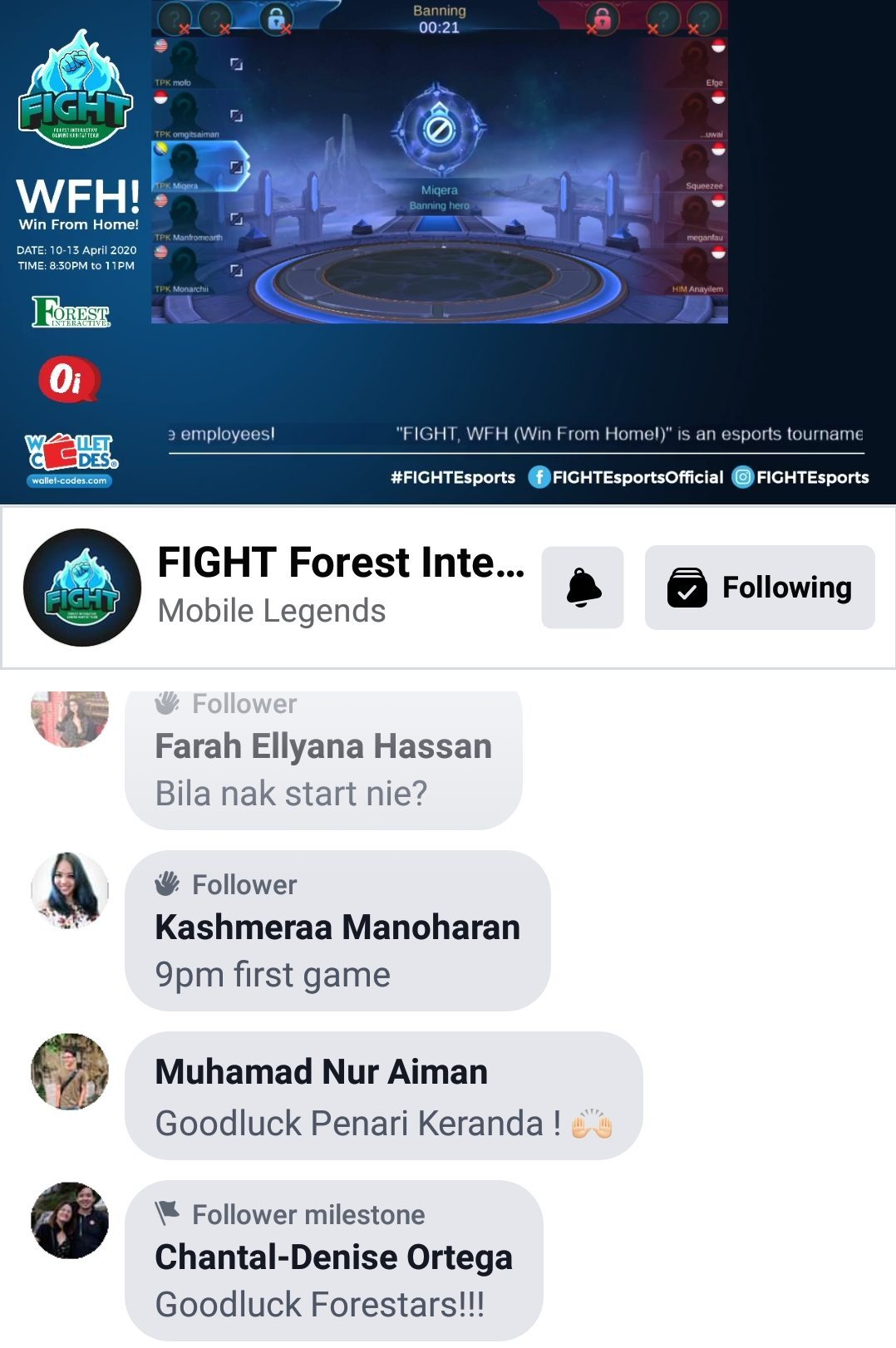 FIGHT Win From Home was live-streamed on FIGHT and Oi, Jom! Facebook pages.
In an effort to combat adverse psychological effects due to physical distancing, Forest Interactive steps up the work-from-home game by organizing the internal esports tournament over the weekend. The tournament was open to all Forest Interactive talents across 14 regional offices with the objective to foster virtual social connection during this long isolation period.
The game selected for this edition was the popular Mobile Legends: Bang Bang. A total of 20 selected talents have participated in the 4-day tournament which was held from April 10-13. The tournament was live-streamed on FIGHT and Oi, Jom! official Facebook pages, recording over 1,000 views.
###
About FIGHT
Forest Interactive Gaming Habitat Team (FIGHT) is the esports arm of Forest Interactive that focuses on tournaments, showcases and seminars where gamers, game publishers and developers, and companies come together. FIGHT focuses on the gamers and development of esports; game publishers and developers, and companies that are making innovations in the esports industry; and the education of gaming and esports.
About Forest Interactive (as of April 2020)
Forest Interactive is an award-winning telecommunications platform provider with a global presence across 14 regional offices in 33 countries. Since its founding in 2006, Forest Interactive has been providing innovative and revenue-generating solutions for 50 mobile operators and is connected to more than 1 billion subscribers worldwide. The company enables enriched mobile experiences through highly-customizable platforms such as Digital Service Delivery Platform (DSDP), Mobile Games Publishing, and eVouchers. Forest Interactive is also the organizer for numerous Mobile Esports events in partnership with Moonton and Tencent.
Stay updated with Forest Interactive on LinkedIn, Instagram, Facebook and YouTube.
For more information, please contact:
Forest Interactive Press Bureau
Address: Unit C-7-2, Megan Avenue 2, Jalan Yap Kwan Seng, 50450 Kuala Lumpur, Malaysia.
Phone: +603 2162 2728
Email: [email protected]
Website: forest-interactive.com