FIGHT Esports Won PR of The Year Award 2022
Posted by
August 11, 2022 in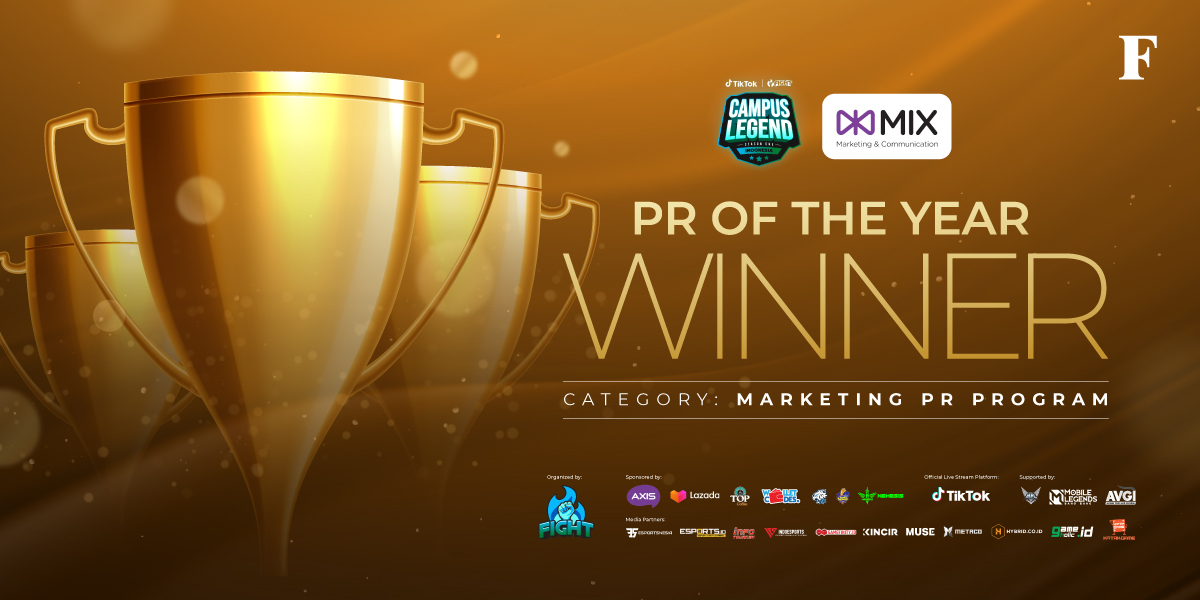 JAKARTA: FIGHT Esports won the 15th PR of the Year 2022 award from MIX Magazine, a marketing communications magazine under SWA Media Group. Awarded to FIGHT Esports for its success in organizing FIGHT Campus Legend (FCL) Season 1, the ceremony was conducted virtually on July 14, 2022.
The annual award aims to appreciate communications efforts through public relations programs. Winners are determined by journalists and a board of jury.
Arya Jamil, Senior Business Development Executive at FIGHT Esports, was delighted to receive the award: "We dedicate this win to our partners who have supported us through FCL Season 1. We hope to continue supporting the Indonesian esports ecosystem through inclusive tournaments in the country," said Arya.
FIGHT Esports was the only esports entity awarded at the 15th PR of the Year 2022 award. The 15th PR of the Year 2022 was the third award achieved by FIGHT Esports. Previously, FIGHT won a Gold Award for the PR Marketing category at PR INDONESIA Awards (PRIA) 2022 and a Bronze Award for the Best Consumer Event category for the esports industry at the Marketing Events Awards organized by Marketing Interactive in Singapore.
FIGHT's success in winning those awards was due to the esports entertainment platform's effort to support the esports ecosystem. FCL Season 1 obtained 2.8 million live stream viewers, more than 15,000 landing page clicks, and 102.6 million impressions on the #bersamamaincampuslegend campaign.
These numbers were achieved through three communication strategies: collaboration, content production, and digital promotion.
The award given by MIX Magazine gave a morale boost for FIGHT to host more esports tournaments in the future. In line with FIGHT's mission to support the esports ecosystem through inclusive tournaments, this year, FIGHT is back with FCL Season 2. Registration is open until 28 August 2022. For more information on FCL Season 2, visit @fightesportsid and website www.fightesports.com
About FIGHT Esports
FIGHT is a global esports entertainment platform that helps build an ecosystem for the gaming community and supports the development of the industry through tournaments and gaming content. Established in 2019, FIGHT has organized over 80 tournaments in 7 countries including Cambodia, Indonesia, Malaysia, Myanmar, Thailand, Taiwan, and the Philippines. Visit fightesports.com.