FIGHT Esports Bags Gold in PR Indonesia Awards 2022
Posted by
April 21, 2022 in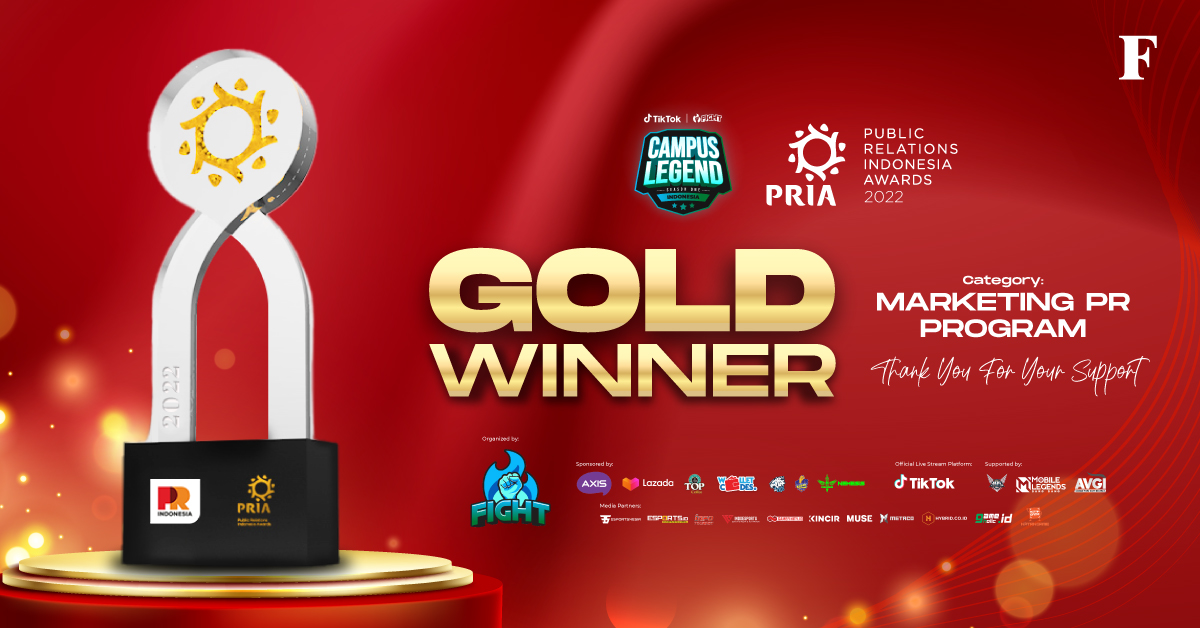 JAKARTA: FIGHT Esports has been named the Gold Winner at PR Indonesia Awards (PRIA) 2022 under the PR Marketing category for its successful execution of the inaugural FIGHT Campus Legend last year.
Held at PO Hotel in Semarang, the award recognizes organizations that have demonstrated excellence in organizing PR programs that boost revenues and lead to customer satisfaction. The panel of judges concurred that the main objectives of FIGHT Campus Legend's first season by FIGHT Esports were achieved successfully with satisfying outtakes and significant impacts.
Vita Paulina, Operations and Marketing Manager at Forest Interactive, said: "It is a great honor to be recognized by the industry's prestigious award organizer for our initiatives in the esports space. The team at FIGHT Esports were ecstatic to see our first regional tournament was widely accepted by Indonesian gamers and received high engagements throughout the three-month-long tournament."

"FIGHT Campus Legend was launched in Indonesia as a part of the regional varsity tournament called FIGHT Campus League, aimed to bring together gamers, pro players, streamers, casters and amateurs across the Southeast Asia region. FIGHT Campus Legend has provided an avenue for players of all levels to play, connect, and compete in various tournaments," continued Vita, who also spearhead the operation and development of FIGHT Esports in the country.
The PR strategy for FIGHT Campus Legend (FCL) 2021 focused on collaboration management, content creation, and promotion. Through these execution mechanisms, FCL Season 1 was able to receive a total of 550 esports teams from universities who registered for the tournament. 320 teams from 31 campuses across the country were then selected to compete in the qualifying stage.
According to a report by Newzoo in August last year, the younger the gamers, the more diverse their interaction styles will be. 71% of Gen Z and 67% of millennials both play and watch gaming content. Therefore, live streaming, coupled with partnerships with influencers, media, and communities, has become essential component of FCL's strategy.
With this strategy, FCL received more than 2.8 million views during the live streaming. Moreover, FCL has successfully generated more than 5,000 new leads for Wallet Codes, a one-stop portal for digital vouchers and one of the sponsors, boosting transactions on Wallet Codes throughout the tournament.
Organized by PR Indonesia, this year's award ceremony marks its seventh edition. As the only and the most comprehensive PR competition in Indonesia, PRIA is a barometer of excellence in the communications and marketing industry that guides both in-house and agency practitioners in Indonesia. The judging process respects and appreciates excellence in recognizing positive performance in corporations and agencies, as well as creative and measurable PR strategies. All entries are evaluated and graded by senior PR practitioners and industry experts in Indonesia.
"There are limited tournaments out there that are opened to amateur gamers. Therefore, we hope that FIGHT Campus Legend is a step forward towards promoting an inclusive tournament for all. This award is a testament to our steadfast commitment in the industry and we will continue to play our roles in supporting and developing a conducive esports ecosystem in Indonesia," concluded Vita.
Following the success of FCL's first season, FIGHT Esports plans to host the second season this year with a Valorant tournament, along with a series of weekly tournaments (FIGHT Weekly Battle).
For more information on the tournament schedules and prizes, please visit www.fightesports.com or Instagram @fightesports.id.
About FIGHT Esports
FIGHT is a global esports entertainment platform that helps build an ecosystem for the gaming community and supports the development of the industry through tournaments and gaming content. Established in 2019, FIGHT has organized over 80 tournaments in 7 countries including Cambodia, Indonesia, Malaysia, Myanmar, Thailand, Taiwan, and the Philippines. Visit fightesports.com.