FIGHT Esports and KITAMEN Join Forces to Activate Level Up KL Junior Cup 2021
Posted by
November 5, 2021 in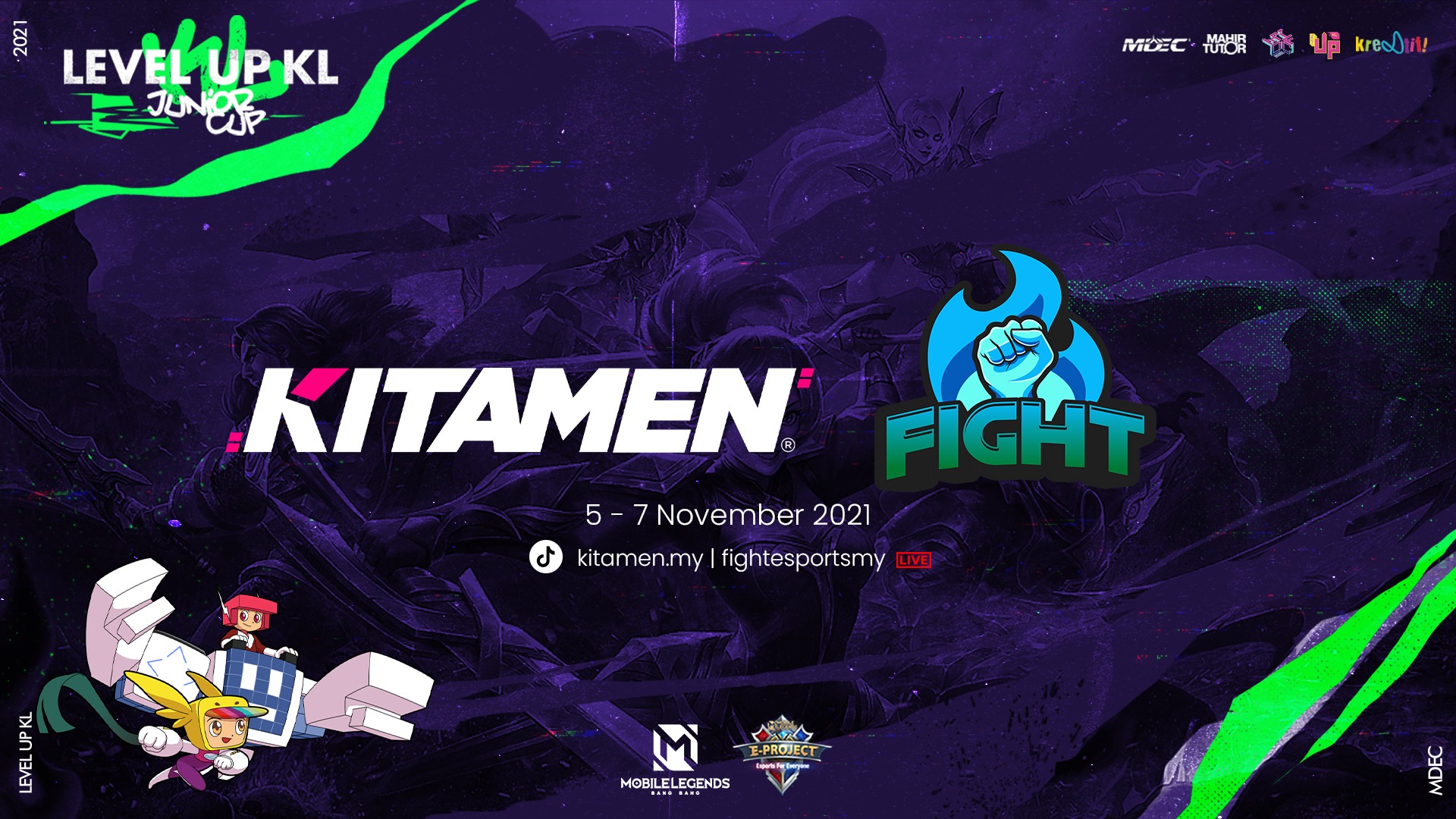 KUALA LUMPUR: FIGHT Esports joins forces with KITAMEN, a Malaysia-based boutique gaming organization, to host the grand finale of Level Up KL Junior Cup 2021.
The tournament, which features Mobile Legends: Bang Bang (MLBB) and commenced with two rounds of qualifiers, will observe eight (8) out of 512 teams battle it out at the grand final for a prize pool of RM5,000. The final will take place on Nov 5-7 at Malaysia Digital Creativity Festival (MYDCF) 2021.
The prize pool breakdown is as follows:
1st Place: RM2,000
2nd Place: RM1,000
3rd Place: RM600
4th Place: RM400
5th – 8th Places: RM250 per team
Matthew Ho, Head of FIGHT Esports, said: "We are excited to join forces with KITAMEN to host our first-ever tournament designed for students in Malaysia's secondary schools. As an industry player, it has been one of our long-term goals to create awareness of healthy gaming and unleash the full potential of esports — and we would like to do so starting with our younger generation who will be the future innovators in the country. Level Up KL Junior Cup 2021 will open the doors for Malaysian students to explore more opportunities in the gaming and esports ecosystem; be it levelling up their gaming skills or pursuing career paths in the industry in the future."

Meanwhile, Hazman Hassan, CEO of KITAMEN, said: "We are extremely excited to have a partner such as FIGHT Esports onboard for this year's Level Up KL Junior Cup. By teaming up together, we will be able to further strengthen the values we bring through this tournament. We hope that Level Up KL Junior Cup 2021 will not only be hosted as an annual event but will also become an official multi-intellectual property (IP) that unites all junior esports athletes under one big brand."
Organized by the Malaysia Digital Economy Corporation (MDEC), the country's leading digital economy agency, MYDCF 2021 is a combined animation and game community-based virtual festival and exhibition for the digital entertainment industry, with a focus on animation, games, esports, toys, and design.
"As part of MDEC's role to oversee the esports ecosystem in Malaysia, we envision MYDCF 2021 to be a platform to unite all esports enthusiasts, esports industry partners, local game developers, game publishers and relevant stakeholders," said Mohan Low, Director of Digital Creative Content at MDEC. "Hence why MYDCF offers a wide variety of esports content throughout November 2021 to celebrate esports and encourage holistic participation from the public to our ever-growing esports communities in Malaysia."
Throughout November, MYDCF will feature various interactive and entertaining programmes, with seven main events helming the month-long experience: career fair, SEA Games awards, Kre8tif! Awards, esports tournaments, Level Up KL Junior Cup Shoutcasting Challenge, Comic Art festival, online performances, and more.
Besides FIGHT Esports, Mahir Tutor is also one of the sponsors for this year's Level Up KL Junior Cup. Developed by Planet Mahir, Mahir Tutor is the first video-on-demand (VOD) platform in the world that offers educational content in Bahasa Melayu which can be accessed through a web browser or mobile app.
For more information about Level Up KL Junior Cup 2021, visit kitamen.my/junior.
Level Up KL Junior Cup 2021 Grand Final will be livestreamed on Nov 6 & 7 via:
FIGHT Esports Malaysia TikTok: @fightesportsmy
KITAMEN TikTok: @kitamen.my
-ENDS-
About FIGHT Esports
FIGHT is a global esports entertainment platform that helps build an ecosystem for the gaming community and supports the development of the industry through tournaments and gaming content. Established in 2019, FIGHT has organized over 80 tournaments in 7 countries including Cambodia, Indonesia, Malaysia, Myanmar, Thailand, Taiwan, and the Philippines. Visit fightesports.com. 
About KITAMEN
KITAMEN ("Kita Main") is a Malaysia-based boutique gaming organization built at the intersection of competitive gaming, entertainment, and retail.
Since 2017, KITAMEN has organized more than 100 esports events nationwide, distributed more than RM1,000,000 prize money, and has worked with multiple local community partners to create an army of esports enthusiasts. KITAMEN is also a proud TERAJU SUPERB winner in 2017, the most prominent public grant in Malaysia. Visit kitamen.my.