FIGHT Concludes Its First Mobile Legends: Bang Bang Tournament in Taiwan
Posted by
March 30, 2021 in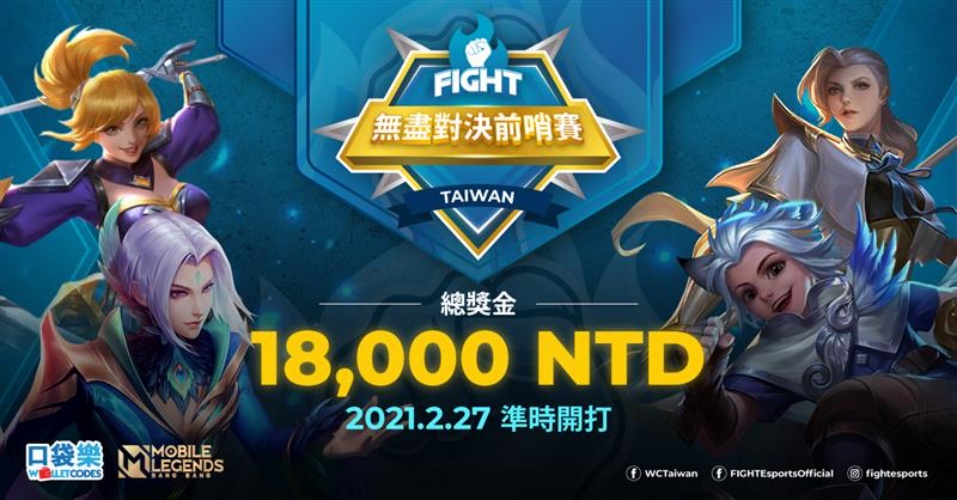 TAIPEI – FIGHT Esports, a global esports organizer, concludes its inaugural Mobile Legends: Bang Bang (MLBB) online tournament in Taiwan on February 27, 2021.
The tournament, which was held in custom five-on-five draft pick mode, was broadcasted live on FIGHT Esports Facebook channel in both Mandarin and English. Team AdamaShowDow was crowned champion after defeating the other four teams, taking home a massive prize of NTD5000 and 15 MLBB 500 Diamonds gift cards for finishing top.
The first runner-up, EXG, took home NTD2500 and 5 of each MLBB 500 Diamonds and 300 Diamonds gift cards while Beking Powder, who finished third, scooped up 150,000 Wallet Codes' P-Points worth NTD3000.
"We are thrilled to continue our mission of providing opportunity and accessibility to all gamers by organizing our very first Mobile Legends online tournament," said Jocelyn Chang, Regional Head of Marketing & Business Development at Forest Interactive.
"As we navigate through the COVID-19 pandemic, this virtual tournament allows top-tier gamers and the next generation of talents to come together in a safe and competitive environment. We are proud of all teams that have participated and have shown remarkable performance throughout the tournament, starting from the group stage qualification up to the grand finals," added Jocelyn.
Since the government started recognizing esports as an official sporting event in 2017, the Taiwanese games market has also valued at $1.4 million and ranked 7th in Asia Pacific for 2020, according to a report by Newzoo, an esports analytics firm.
Meanwhile, Mobile Legends: Bang Bang, the second-most-popular esports game in Southeast Asia, has reportedly racked up over 500 million downloads and 75 million active players since its first launched. Much of its popularity is centered around Southeast Asia, where the game has established itself as a major esports player.
Recently, Mobile Legends: Bang Bang was announced by the Vietnam Electronic Sports and Entertainment Association (VIRESA) as a returning esports title in the 31st Southeast Asian (SEA) Games, along with other nine esports titles.
###
About FIGHT Esports
Forest Interactive Gaming Habitat Team (FIGHT Esports) is a global esports organizer that helps build an ecosystem for the gaming community and supports the development of the industry through tournaments and exhibitions. Established in 2019, FIGHT has organized over 80 tournaments in 7 countries and regions including Malaysia, Indonesia, Philippines, Myanmar, Thailand, Cambodia, and Taiwan. Visit fightesports.com.
About Forest Interactive (as of March 2021)
Forest Interactive develops scalable mobile platforms that enable mobile operators and content providers to build enriched customer experiences with highly-customizable and easy-to-use platforms. With over a decade of industry experience, Forest Interactive has expanded to include a workforce of 28 nationalities in 17 regional offices and 35 operating countries, providing innovative and comprehensive solutions to over 90 mobile operators and over 120 content partners with the capacity to reach 1.4 billion subscribers worldwide.
For more information, please visit forest-interactive.com.
Follow Forest Interactive on LinkedIn, Instagram, Facebook, and YouTube.
Media Contacts:
Forest Interactive Press Bureau
[email protected]
+603 2162 2728