FIGHT and Wallet Codes Join Forces with Garena to Bolster Malaysian Esports
Posted by
October 28, 2020 in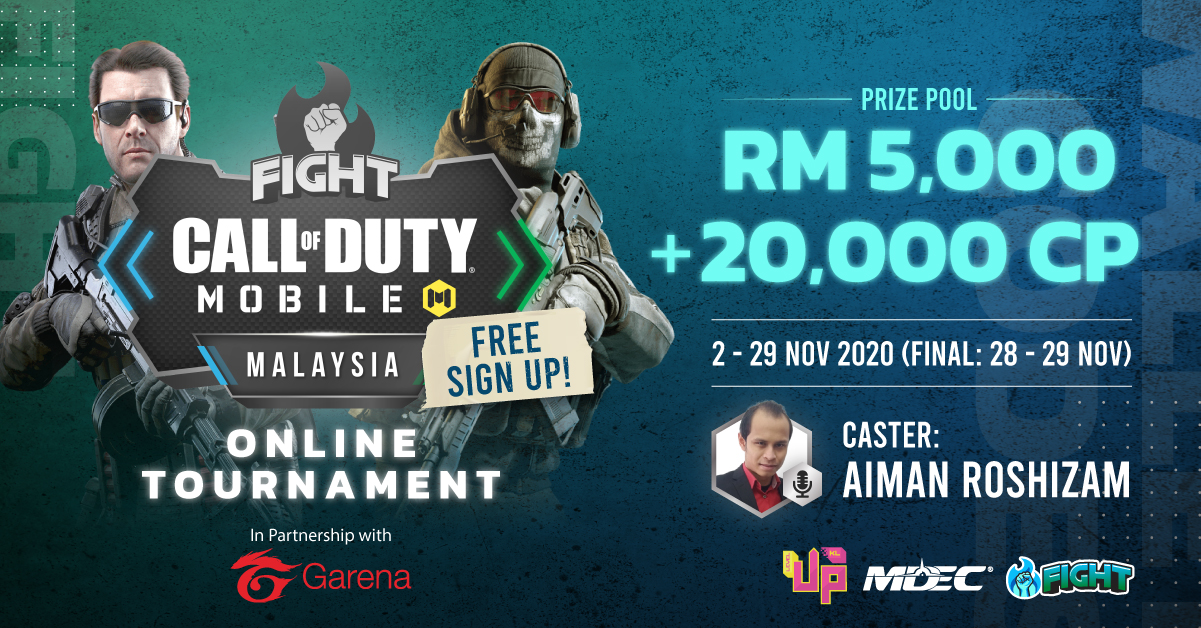 KUALA LUMPUR — Forest Interactive's esports development platform, Forest Interactive Gaming Habitat Team (FIGHT), and gaming wallet platform, Wallet Codes, join forces with Garena to bolster Malaysian esports through a two-pronged partnership for business development and community building.
This partnership has materialized as Wallet Codes introduces Garena Shells in its roster of premium gaming vouchers, and FIGHT partners with Garena to host a Call of Duty (COD) Mobile tournament at this year's Level Up KL.
The tournament will commence on November 2 with the finale scheduled on November 28 and 29, offering a total prize pool of MYR5,000 and 20,000 Call of Duty Points (CP) worth MYR800.
Chantal-Denise Ortega, Project Manager at FIGHT, commented: "We're thrilled to work together with Garena in organizing the COD Mobile tournament at Level Up KL 2020. Our focus at FIGHT is to build and develop the esports community in Malaysia and Southeast Asia by providing them with the right platform.
"With Level Up KL going virtual this year, there's the opportunity to reach a wider audience across the region. It's a golden time to discover budding talents as well as develop skilled players, and eventually, grow the community in this promising industry."
Muhammad Rezza Rosly, or best known as Rezzadude, YouTuber, gaming influencer, and ambassador of FIGHT, said that the tournament will further boost the esports industry in Malaysia to international heights. As one of the pioneers in the gaming scene in Malaysia, Rezza acceded such tournament will give the necessary exposure to both budding and professional esports players and support their growth.
"It also shows a serious commitment between different parties, such as the government, corporates, and players themselves, in our effort to bring the region's esports industry to a global level. In the future, our professional esports players could be competing in the SEA Games and Olympic. It all begins with nurturing them through tournaments such as this," he added.
Additionally, Garena Shells will be the 4th product offered in the Wallet Codes Malaysia portal, adding to STEAM® Wallet, PUBG Mobile, and Mobile Legends Diamonds.
Adi Azfar, Product Operation Manager at Forest Interactive, said: "Having Garena on-board on Wallet Codes through this partnership allows the expansion of our product range, which is in line with our goal to be a leading digital code platform in the region. Gamers can enjoy more alternative payment options and get the best value for their money with seasonal promotions through Wallet Codes."
As the official gaming wallet partner at this year's Level Up KL, Wallet Codes is also giving away free digital codes to all participants in an effort to educate and create awareness, as well as open up more opportunities for the people in the region to explore what the esports industry has to offer.
"We hope that more gamers would be able to first fully experience the game of their choice before deciding to financially commit to these games," Adi concluded.
To join Call of Duty Mobile Tournament at Level Up KL 2020, visit here to register. To find out more about Wallet Codes and FIGHT, visit wallet-codes.com/my and fightesports.com.
###
About Forest Interactive (as of October 2020)
Forest Interactive develops scalable mobile platforms that enable mobile operators and content providers to build enriched customer experiences with highly-customizable and easy-to-use platforms. With over a decade of industry experience, Forest Interactive has expanded to include a workforce of 27 nationalities in 17 regional offices and 39 operating countries, providing innovative and comprehensive solutions to over 90 mobile operators and 120 content partners with the capacity to reach 1.3 billion subscribers worldwide.
For more information, visit forest-interactive.com and follow Forest Interactive on LinkedIn, Instagram, Facebook and YouTube.
Media Contacts:
Forest Interactive Press Bureau
C-7-2, Megan Avenue 2, No. 12 Jalan Yap Kwan Seng, Kuala Lumpur, 50450, Malaysia.
+603 2162 2728
[email protected]