Bits + Bytes : A Miscellany of Technology
Posted by
November 10, 2020 in
League of e-sports companies
Three e-sports-related companies — Forest Interactive's e-sports development Forest Interactive Gaming Habitat Team (FIGHT), gaming wallet platform (Wallet Codes) and Garena — are teaming up to further the development of the industry in Malaysia.
For starters, Wallet Codes has introduced Garena Shells (the online currency of the Garena gaming platform and Garena-operated games such as League of Legends and Call of Duty) to its roster of premium gaming vouchers.
In addition, FIGHT is partnering with Garena to host a Call of Duty mobile tournament at this year's Level Up KL tournament, which started on Nov 2. The finale is scheduled for Nov 28 and 29. The total prize pool is RM5,000 and 20,000 Call of Duty points worth RM800.
FIGHT project manager Chantal-Denise Ortega says: "With Level Up KL going virtual this year, there's an opportunity to reach a wider audience across the region. It's a golden time to discover budding talents as well as develop skilled players and, eventually, grow the community in this promising industry."  
FunNow acquires TABLEAPP 
Taiwan-based FunNow, the leading reservation platform for various entertainment and leisure venues, has acquired TABLEAPP, a Malaysian start-up providing restaurant reservation and table management tools, for an undisclosed sum comprising cash and shares.
"TABLEAPP has been enabling a centralised F&B digital solution including reservation and table management system for merchants since our establishment seven years ago. We are the leading provider of online restaurant reservations in Malaysia while FunNow offers users the best price points on lifestyle activities," says Benson Chang, TABLEAPP's founder and CEO.
"The combined entity enables restaurants to sell their empty tables at the last minute while concurrently attracting a bigger user base to also capitalise on discounts and offers," he adds.
Since it was established in 2013, TABLEAPP has seated over 6.3 million diners in Malaysia. Chang will join FunNow as Malaysia director and head of operations of the combined entity in Malaysia.
Aussie people management platform launches in Malaysia
Australian people management platform Employment Hero has expanded into Malaysia to, among other things, help Malaysian small and medium enterprises (SMEs) deal with staffing issues brought about by the government's work-from-home directive during the Conditional Movement Control Order (CMCO).
It has launched localised versions of its signature people, payroll and benefits solution in Malaysia, Singapore, New Zealand and the UK to help SMEs in these markets better navigate common HR processes as well as people and performance management.
This includes assistance for hiring, onboarding, managing payroll and engaging with employees' needs. Until Nov 28, Employment Hero will also offer a free six-month subscription for customers who sign up for a 12-month subscription and a free three-month subscription for those who sign up for a month-to-month subscription.
Employment Hero has also launched its latest service, Global Teams, a new professional employer organisation (PEO) solution designed to democratise the talent landscape and help SMEs scale sustainably. The roll-out of the Global Teams PEO service will give SMEs access to talent pools across 54 countries without having to establish a foreign legal entity.
Beamstart to launch S$10m fund and first digital accelerator to invest in early-stage start-ups
Beamstart, the company behind global entrepreneurial platform and resource database, beamtstart.com, has announced that it will be launching a S$10 million (RM41.54 million) "digital accelerator" fund aimed at investing in early-stage start-ups in Southeast Asia.
The fund, to be launched in a few weeks' time, will begin deploying capital in the second quarter of next year. It will focus on technology start-ups, especially those focused on tackling cross-border digital-related solutions in emerging markets, with potential synergies with large companies in China, Japan or the US.
This fund will invest up to S$100,000 in start-ups mainly at the pre-seed/accelerator to late seed stage, basically when they are believed to have the least support in the region.
Beamstart will also pioneer the first-ever "Digital Accelerator" in Southeast Asia, where start-ups will apply for funding and receive full support "virtually" by leveraging on the company's vast network of digital news/media platforms, business resources, technologies, and investment/talent partners.
This fund will be spearheaded by Beamstart's founders, Kenneth Ho and Wallace Ho, and a financial services partner from Singapore. Limited partners for the fund will include high-net-worth individuals and family offices from China, Japan and Indonesia.
The founders believe there is a massive opportunity to invest in technology start-ups now, given the effects of the pandemic on consumer behaviour and the emergence of 5G. "We believe that the rise of China, coupled with Covid-19's after-effects, has created a whole new digital-first world where consumer behaviour, working patterns and mobile usage have changed forever. It is the best time to create value that has synergy with technology giants in countries like China, Japan, and the US," says Kenneth.
HACKATHONS
Bursa Malaysia Bhd and i CGS-CIMB Securities Sdn Bhd will host the inaugural InvestHack hackathon event from Nov 20 to 22. Themed "InvestHack: Reimagine Investing", the contest aims to develop innovative solutions and offerings to enhance retail investor participation in the marketplace. Registration is free and total cash prizes of RM35,000 are up for grabs. For more information and to register, please visit www.bursamarketplace.com/investhack-2020/.
WHILE YOU WERE WORKING (FROM HOME)
HP unveils product line for creators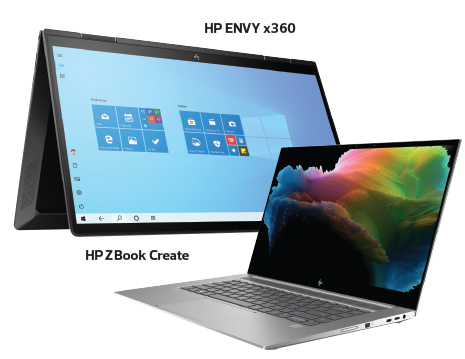 HP Malaysia has revealed a new line-up of PC and print products curated for creators who work from home or on the go. The new additions to the HP Create Ecosystem are the HP ZBook Create, HP ENVY x360 and HP Deskjet Plus Ink Advantage 6000 series.
HP ENVY x360 is a multi-touch convertible laptop that comes with a display powered by Radeon Graphics and the HP Stylus Pen. The HP ZBook Create is the world's smallest 15-inch notebook for creation and gaming. Finally, the HP DeskJet Plus Ink Advantage 6000 series, when paired with the HP Smart App, allows users to enjoy high-quality scanning and sharing from their mobile devices.
This line-up of devices was developed to accommodate a new generation of digital native content creators as the rise of social media saw traditional creatives merging with this new generation of content creators.
The HP ENVY x360 is available at prices starting at RM3,799 while the HP ZBook Studio and HP ZBook Create are from RM11,236. The HP DeskJet Plus Ink Advantage 6000 is available at RM459.
WEBINARS
One of Malaysia's leading intellectual property and commercialisation firms Adipven (M) Sdn Bhd will be organising a free webinar, "Impact of Crisis on Innovation and Commercialisation" on Nov 18 at 10am to 12pm. The webinar, supported by The Petri Dish and Science Media Centre Malaysia in partnership with the Medhini Group, shares insights into how patent analytics can be used to turn the Covid-19 pandemic into opportunities.
To be held live on Zoom, it will offer policymakers, researchers and investors from government and private organisations, healthcare and pharmaceutical professionals, start-up founders, technopreneurs, inventors, patent owners, patent applicants, scientists and engineers insights into the trends in patents and commercialisation during the pandemic in Malaysia and around the globe.
Open to both local and international participants, the webinar will be moderated by Joel William, founder and CEO of Medhini Group Sdn Bhd.
Register directly at tinyurl.com/adipvenwebinar.
It's always 'When is the McRib coming back?' and never 'How are you doing, person who runs the McDonald's account?'
The tweet by McDonald's social media admin person which created a frisson in Twitterverse and prompted humorous and empathetic responses from his/her counterparts at Adobe, Xbox, Target and HBO, to name a few.
DIGITIONARY
Hacker
If you're not a techie, you've probably been using the word "hacker" wrongly. A hacker is not someone who maliciously breaks into or otherwise violates the system integrity of remote machines with malicious intent. What we popularly call hackers are actually "crackers" who, having gained unauthorised access, destroy vital data, deny legitimate users service or cause problems for their targets.
Rather, s/he is a person intensely interested in the arcane workings of a computer operating system. Most often programmers, hackers obtain advanced knowledge of operating systems and programming languages. In the course of their exploration, they may discover holes within systems and the reasons for such holes. They constantly seek further knowledge, freely share what they have discovered and never intentionally damage data.
In short, hackers are smart. Crackers are malicious. Learn the difference and stop mistaking one for the other.
GAMES PEOPLE PLAY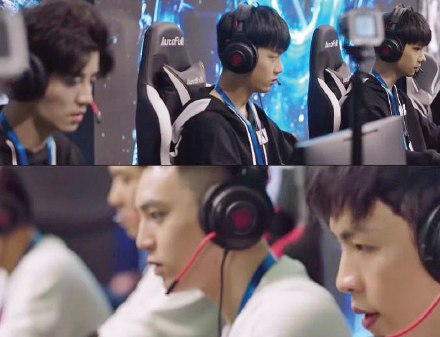 If you are interested in learning more about Capture the Flag (CTF) (turn to page 13 for our feature on it), you can catch Go Go Squid! on Netflix. The 41-episode series features the unlikely romance between a brilliant but Hello Kitty-cute postgraduate student, Tong Nian, and Han Shangyan, dark, brooding and seemingly emotionless boss of multi-award-winning CTF team, K&K. Even if you watch it for the romance, you cannot help but pick up a thing or two about CTF: the games are highly charged and adrenaline-inducing, the players are superstars who are ranked globally and have their own fan base and an APM is an actions per minute speed test. Oh, and cybersecurity is the industry of the future.
EDITOR'S MUST-HAVES
The right light for the right mood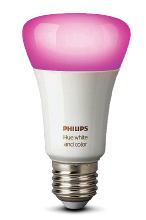 Being stuck at home can be frustrating, especially when your work, entertainment and dining locations are in the same place. Smart lights, powered by the Internet-of-Things, could make the lighting in your house more exciting.
An example is Philips Hue, a connected home lighting system that allows you to set brightness, create timers and change the colours of your lights from your phone. Even more interestingly, it can be synched to music, TV and games so that the colours change according to the mood of the content.
The company also integrated Razer Chroma, a product by gaming giant Razer, with Philips Hue so that the lights in your room can reflect the environment you are exploring in the game, or notify you when your character's health is low.
All it takes to set up are light bulbs or light strips, a smart wireless hub and a smart device, which could be a phone or even a smart watch.
TECH BOOKS
Designed for Digital: How to Architect Your Business for Sustained Success
by Jeanne W Ross, Cynthia M Beath and Martin Mocker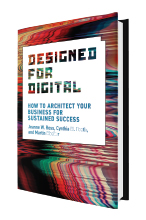 Most established companies have deployed such digital technologies as the cloud, mobile apps, the Internet of Things and artificial intelligence. But few of these companies are designed for digital. As the Covid-19 pandemic, which had laggards scrambling to go digital, has shown us, this is no longer a choice but a reality. You need to get with the programme and do so quickly.
This book may help. Designed for Digital offers some practical advice on how companies can evolve into digital powerhouses without compromising current sources of revenue and profit. The authors (a research scientist, a professor at a school of business and a writer) dig into five years of research and in-depth case studies of digital leaders (Amazon, BNY Mellon, LEGO, Philips, and more) to come up with the foundational component of a digital business: shared customer insights, an operational backbone, a digital platform, an accountability framework and an external developer platform.
NEW PRODUCTS
Make your camera a (better) webcam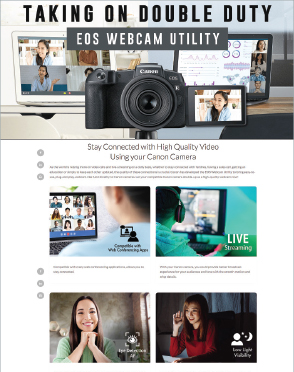 Low-quality front cameras on laptops are problematic for those who host live-streaming events, online meetings, gatherings and vlogs. This pain point has become even more obvious now that the Covid-19 pandemic has forced us to go online more frequently.
Canon has a solution for this. In September, it launched the full production version of the EOS Webcam Utility software for Windows. Now, 42 EOS interchangeable lens cameras and PowerShot cameras are compatible with the full production software.
This enables Canon cameras to double up as high-quality webcams that are compatible with many web-conferencing applications. The cameras also have auto-focus technology and enables live streaming, even in low-light indoor environments.
Users just need to download the software from the website for free.