7Seas Philippines Brings Waves of Nostalgia for Its 1st Anniversary with Tsunami Cup, Supported by Wallet Codes and FIGHT Esports
Posted by
November 25, 2021 in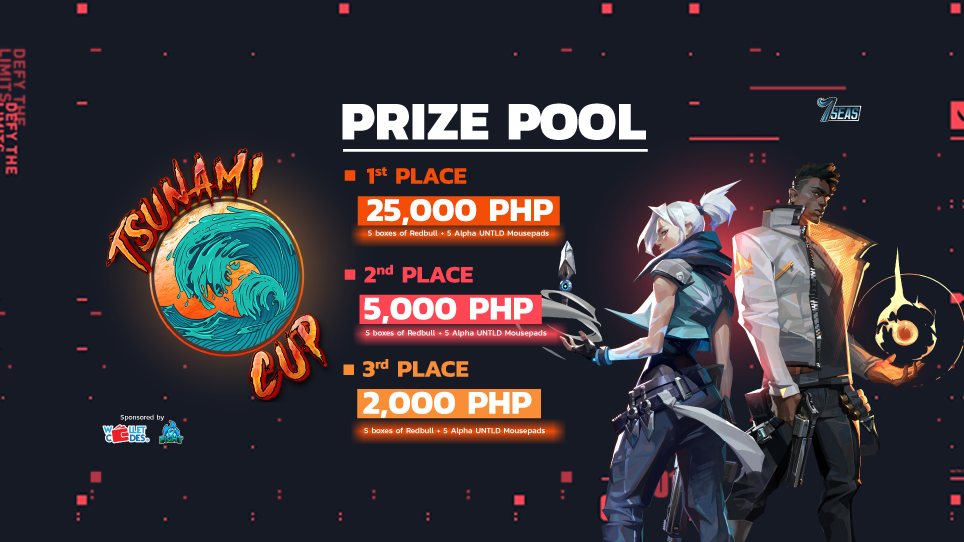 MANILA: 7Seas will be hosting a Valorant tournament in conjunction with its first anniversary. Titled Tsunami Cup, the tournament aims to honor the growing gaming community in the Philippines, with the support of Wallet Codes Philippines and FIGHT Esports.
The tournament will commence from November 26 to 28 this year and will be broadcasted live on Twitch from 12 p.m. onwards via twitch.tv/7seasph. Wallet Codes Philippines and FIGHT Esports will also be sponsoring Valorant Points and Discord Nitro gift cards worth PHP10,000 for the giveaways.
The playoff dates for the Tsunami Cup are as follows:
Day 1 (Single Eliminations) – November 26, Friday (12 p.m. onwards)
Day 2 (Semi-Finals) – November 27, Saturday (12 p.m. onwards)
Day 3 (Finals) – November 28, Sunday (12 p.m. onwards)
The prize pool breakdown is as follows:
1st place:    25,000 PHP + 5 boxes of Redbull + 5 Alpha UNTLD Mousepads
2nd place:   5,000 PHP + 5 boxes of Redbull + 5 Alpha UNTLD Mousepads
3rd place:    2,000 PHP + 5 boxes of Redbull + 5 Alpha UNTLD Mousepads
"It is such an honor to be able to support the highlight of 7Seas' journey. Valorant has become a sort of national love for gamers in the Philippines," said Don Vicente, Marketing and Business Development Lead at Forest Interactive Philippines, who oversees Wallet Codes' and FIGHT Esports' operations in the country. "Not only does this tournament pay homage to the team's journey thus far, it is also giving back to the community that foster its growth from day one."

"7Seas is turning 1 year this November, and as an organization that grew fast because of our loving and supportive community, we want to see them this time to showcase their own talents in Valorant as that is how our organization also started." commented a representative at 7Seas.
The tournament will be hosted by 7S Thirst, 7S Senpapi, and 7S Oto. Day 1 Single Eliminations will be casted by 7S Berzerk and El1pse while Day 2 Semi-Finals will be casted by Mochiii and Yuuske. For the Finals, Ling2x and CasterJT will take charge.
Apart from the sponsored Valorant Points and Discord Nitro gift cards, 7Seas Philippines will also be giving away prizes such as:
Nokia G50 Smartphones
Alpha UNTLD Mousepads
Redbull boxes, and many more.
7Seas is a gaming and esports entertainment company in the Philippines. Co-founders 7S Thirst, 7S Kitsune, 7S Rushback, 7S Berzerk, and 7S Daddy started out as online friends sharing their love for video games, specifically Valorant, and achieved success by creating a solid business model and positioning themselves as the trending destination for emerging and established gaming talent. Additionally, 7Seas is well-embedded in the content distribution and streaming industry.
Wallet Codes Philippines' newest launch of Valorant Points on its platform was a long-awaited inclusion in the region due to the popularity of the game. Alongside Discord Nitro Gift Cards, the two are now a part of an expansive catalogue of popular digital vouchers such as iTunes and PUBG Mobile.
To know more about Wallet Codes Philippines, refer to this link: https://www.wallet-codes.com/ph/
-ENDS-
About Forest Interactive
Founded in 2006, Forest Interactive develops scalable mobile platforms to connect mobile operators, content providers, and game publishers with their subscribers. With over 15 years of industry experience, Forest Interactive has expanded to include a diverse workforce of 20+ nationalities in 17 regional offices.
Delivering content subscription services, digital voucher and e-commerce platforms, and mobile apps for all ages, Forest Interactive operates in more than 30 countries, servicing 90+ mobile operators and 100+ content partners with the capacity to reach over one billion subscribers worldwide. To learn more, visit forest-interactive.com.