31 Indonesian Universities Advance to 2021 FIGHT Campus Legend's Group Stage
Posted by
September 7, 2021 in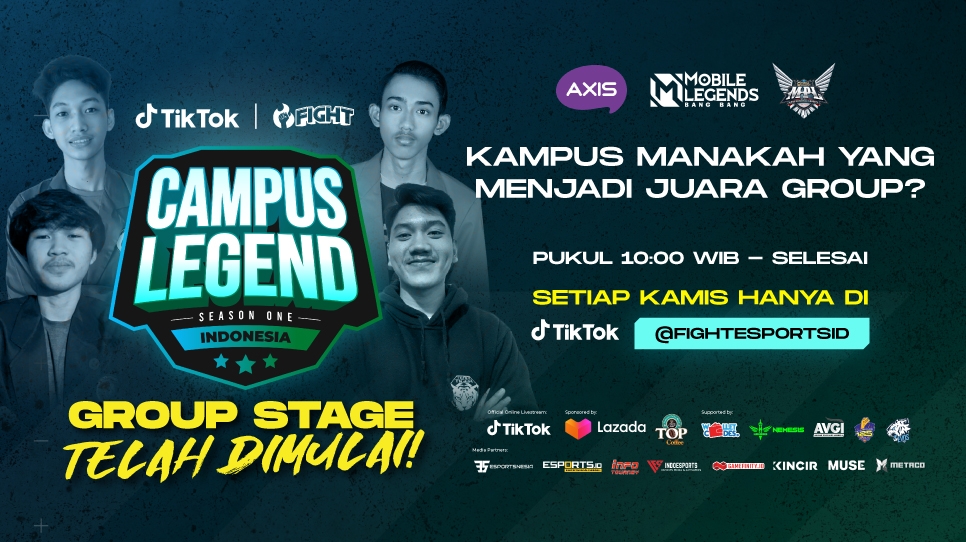 JAKARTA: After 10 weeks of intense battle between 320 teams from 293 universities during the qualifying stage, 40 teams from 31 universities across Indonesia advance to the group stage of this year's FIGHT Campus Legend. The group stage kicked off on August 19 and will be hosted every Thursday and Friday for eight weeks until October 7, 2021.
Here is the list of universities that will compete in the group stage:
Universitas Gadjah Mada
Institut Pertanian Bogor
UPN Veteran Jawa Timur
Universitas Sumatera Utara
Universitas Tanjungpura
Universitas Hassanudin
Binus University
Universitas Negeri Makassar
Univeristas Pasundan
Universitas Pahlawan Tuanku Tambusai
Universitas Gunadarma
UIN Syarif Hidayatullah Jakarta
Universitas Surabaya
Politeknik Negeri Pontianak
Telkom University
Universitas 17 Agustus 1945 Surabaya
Politeknik Negeri Malang
Universitas Pekalongan
Universitas Tarumanagara
Universitas Jenderal Achmad Yani
Universitas Halu Oleo
Universitas Budi Luhur
Trisakti School of Management
Universitas Langlangbuana
IAIN Surakarta
Universitas Kristen Indonesia
Universitas Syiah Kuala
Universitas Muhammadiyah Surakarta
UIN Maulana Malik Ibrahim Malang
UPN Veteran Jakarta
Universitas Udayana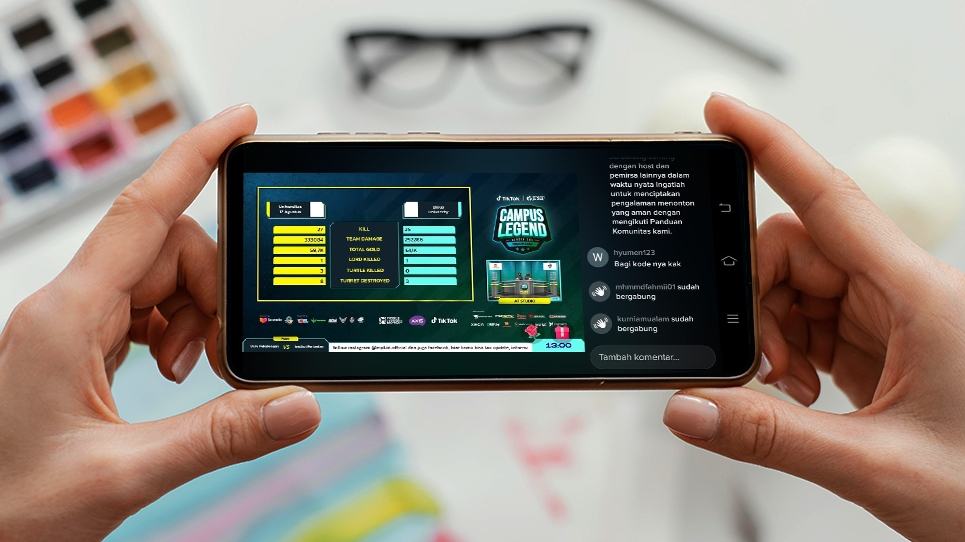 The group stage kicked off on August 19 and will be hosted every Thursday and Friday for eight weeks until October 7, 2021.
Vita Paulina, Operation and Marketing Manager of Forest Interactive Indonesia, explains that the qualifying stage was fun, especially due to the active participation from the university students in supporting the tournament during all of the livestreams on TikTok.
"We appreciate the high spirit and enthusiasm shown by each participating team throughout the tournament. The students also showed good sportsmanship by coming on time on every occasion, even during the technical meeting. While supporters from the respective universities did not compete in the tournament, they still tuned in to the livestreams every week during the qualifying rounds and actively engaged with their peers in the stream's comment section," continued Vita, who also oversees FIGHT Esports' operations in the country.

Angga Anugrah Putra, Head of Operations at TikTok Indonesia said in agreement: "The enthusiasm from many students in Indonesia in watching the FIGHT Campus Legend's streams is a testament to the growth of the community and esports enthusiasts on TikTok. We hope that TikTok can be a platform that will open more opportunities for the gaming community to reach out to bigger audience, unearth their potential, and provided endless entertainment."
The first 10 weeks of the inaugural varsity league's qualifying stage saw numerous strong teams, even from universities outside of Java like the esports team from Poltek Negeri Pontianak, which is the team from Universitas Surabaya.
Additionally, Axel Arkenzo, the caster for the tournament, noted: "One unforgettable scene happened during the 6th week when Universitas Trisakti fought against Universitas Langlangbuana. They competed head-to-head and both teams battled it out strategically. The playback is worth watching over and over again, especially if you need a reference of a well-played game."
This tournament, which is organized by FIGHT Esports in partnership with TikTok, is also supported by non-endemic brands such as Axis, Top Coffee, Lazada, and Yamaha, while esports industry players like Wallet Codes Indonesia, Moonton Indonesia, NYK Nemesis, and Evos Esports also came in as partners. The tournament is streamed live exclusively on TikTok via @fightesportsid.
Esports fans and team supporters who tune in to FIGHT Campus Legend's streams also stand a chance to win a variety of prizes including millions of P Points from Wallet Codes Indonesia. These P Points can be used to redeem a multitude of Wallet Codes game vouchers via app and an Internet subscription package from Axis.
On the other hand, the top three teams will stand a chance to bring home grand cash prizes worth IDR 38 million: IDR 15 million for the champion, IDR 12 million for the first runner-up, and IDR 10 million for the second runner-up.
The on-going FIGHT Campus Legend is a part of the FIGHT Campus League instalments, a regional, multi-title tournament for university students in Malaysia, Indonesia, and the Philippines. The league, which runs for five consecutive months since May 2021, kicked off in Malaysia with PUBG Mobile tournament and followed by FIGHT Campus League Philippines' Call of Duty Mobile tournament.
For detailed information on how to stay updated with the tournament and register for future tournaments, kindly visit fightesports.com and follow us on Instagram via @fightesportsid.
-ENDS-
About FIGHT Esports Global
The Forest Interactive Gaming Habitat (FIGHT) is a global esports entertainment platform that helps build an ecosystem for the gaming community and supports the development of the industry through tournaments and gaming content. Established in 2019, FIGHT has organized over 80 tournaments in 7 countries including Malaysia, Indonesia, Philippines, Myanmar, Thailand, Cambodia, and Taiwan. Visit fightesports.com.